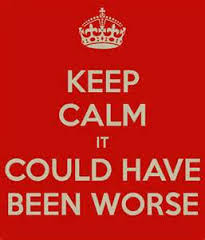 Well, beloved, we've come to the end of another year, which means we're about to be inundated with "Year in Review" posts/articles/programs. And, yes, I'm doing one, too. "Year in Review" posts aren't what you'd call a regular feature here. Unlike my annual Thanksgiving posts, I haven't written one of these since 2012. I'm not exactly sure why, it's not like the past four years have been uneventful or anything. In fact, I'm not sure why I'm writing this one. Probably because I figure a post about 2016 will get some views and, like all writers, I'm a bit of an attention whore.
The consensus view seems to be that 2016 has been a rather shitty year. After all, it's seen:
An orange-hued shit demon take advantage of the pain and fear of a large swath of the country to become President of the United States,
A bunch of idiotic yahoos in my home state of North Carolina pass an obviously discriminatory law and then commit political suicide by standing behind it in the face of overwhelming opposition both in the state and abroad,
The most deadly mass shooting in U. S. history, in which 49 people were killed because of their sexual orientation and/or gender expression.
Unarmed black men shot down by the police, mostly for the crime of just being black (that's not new, but it was a big part of this past year).
An election that may have hacked by the Russians. At the very least, they influenced the voting toward the candidate they preferred.
And the death of a beloved celebrity every time we turned around.
Not exactly the best year on record, huh?
Still, it hasn't been all bad. 2016 has also seen:
Working class people find a new (unlikely) champion in a 78 year old Jewish socialist. Now, if the Democratic Party (who likes to think of itself as "the party of the people") would just get on board.
An announcement that Underground Railroad conductor Harriet Tubman would be replacing former president (and slaveholder) Andrew Jackson on the $20 bill. This is good because not only was Jackson was a slave owner, he was an asshole.
Jabba the Hut stunt double, Roger Ailes, resign as chairman and CEO of FoxNews. Ailes did so amidst a hail of accusations that he has a proclivity for making lewd remarks and/or advances to his female employees. And, punishing them when they reject him.
Pat McCrory lose his job as Governor of North Carolina to Roy Cooper. The best part is that McCrory engineered his own downfall with the hated HB 2, which was actually supposed to hurt his opponent, Cooper. Ain't karma a bitch?
Samantha Bee debut her most excellent show, Full Frontal, on TBS. Bee, smart woman that she is, blew off the industry standard  live interview portion of the news parody format and stuck with her strength, scathing, intelligent satire. And, the television world is better for it.
A new Star Wars movie come out. It's called "Rogue  One" if you've been living under a rock. I'm going to see this weekend and I can't think of a better way to ring out this year.
Do these things offset losing David Bowie and Carrie Fisher in the same year? Probably not, but you've got to accentuate the positive. Even when the positive is not all that great.
It's been said that 2016 has been the worst year ever. But, the truth is, it hasn't. Not by a long shot. We're not engaged in a global conflagration, an entire race isn't in the process of being exterminated, there isn't a plague killing off a significant portion of humanity. Don't get me wrong, I'm not saying it's been fun and I'd like to do it again. Just that it's not been that bad. Hey, most of us even survived it. I'm not giving odds on 2017, though. I have a feeling it's going to be a motherfucker.