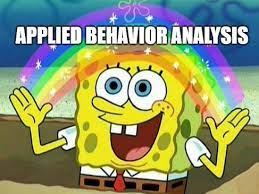 I've mentioned Applied Behavioral Analysis a couple of times on this blog and those mentions haven't been complimentary. Basically, my take on it, and anyone who advocates for it, is that both can go eat a bag of dicks. I realize that statement comes off a bit harsh. And, I get that it might offend some people. But, I'm standing by because I seriously hate this shit. So. Fucking. Much. I realized this week that haven't really said why. That changes today.
What Even Is ABA?
Applied Behavioral Analysis, or ABA, is the most common and best established treatment for kids with autism. Notice the emphasis on "established". I did that because it's an important distinction. Like "best established" as opposed to just "best". Because there are people out there who maintain that it is the best treatment available. Most, if not all, are allistic, i.e. neurotypical. I say "most" because, while I cannot fathom any autist coming out in favor of this abusive bullshit, I can't rule it out either. Internalized oppression and all that shit, you know? But the therapy focuses on dealing with "problematic behaviors" tha "hold kids back". Sounds good, right? Yeah, if you've followed this site much at all, you know what's coming. If not, buckle up, kids. This is going to be a rough ride.
Making People "Better"
ABA is behaviorist in nature and behaviorism is all about control. Of behavior? Sure. At least that was what Skinner said his goal was. But, looking at the work of some of his acolytes, I think it went deeper. Not just control of behavior, but of people. Basically, the essence of behaviorism is that we can make people "better". The problem is that evidence of its effectiveness is debatable, at best. One report flat out states that "The evidence of long-term effectiveness is not available." This lack of evidence is plain if we look at a fucking nightmare factory called the Judge Rotenberg Center. (There's an in-depth look at the JRC here. Click at your own risk because it is fucking awful)
Dr. Matthew Israel, one of Skinner's above-mentioned acolytes, bought into behaviorism in a big fucking way. Early on in his career, he tried to set up multiple "utopian" communities built around behaviorist ideas but these fell apart because people could–and would–think for themselves. Eventually, he decided to fix this inconvenient "glitch" by establishing a school for people who couldn't advocate for themselves (aka kids with emotional, intellectual, and/or developmental issues) and eventually, the Judge Rotenberg Center was born. Eventually, reports of abuse began to circulate–because of course they did–and after investigating them, the state of New York found that "The children 'are controlled by the threat of punishment,'" and that, "'When that threat is removed, they revert to their original behaviors.'" So yeah, the shit doesn't fucking work. Now, you're probably wondering what all this has to do with ABA, Keep reading.
This Is Where All the Fuckery Comes Together
ABA is the brainchild of Dr. Ole Ivar Lovaas, who believed that autistic kids could be "trained" out of "undesirable" (aka autistic) behavior. It was born out of a study that Lovaas conducted on groups of autistic children. One received instruction in language and social skills using isolation and painful stimuli, like slaps (what the fuck???). They also received positive reinforcement with food. You know, like Pavlov's goddamn dogs. The control group used conventional special ed techniques (segregated instruction, remedial curriculum, no personalization). Unsurprisingly, Lovaas' intensive behavioral instruction turned out to be much more effective than the shitty conventional version provided to kids in the control group. A later study, focused on a group that received 40 hours of behavior-based education versus 10 hours of conventional special ed, found that the kids in the former group were able to "lose" their autism diagnosis. Apparently, psychologists and educators decided this was due to Lovaas' techniques rather than the fact that conventional special ed was absolute shit. If you think that sounds fucking stupid, you're right.
Applied Behavioral Analysis May be Better Than Nothing. But It's Still Shit
So, I think we can safely say that we've established that ABA is better than nothing. Not by much, but still. And, the literature in favor of ABA does claim that aversives aren't used anymore, which is something, I guess. And, maybe it's even true. I can't help but think, however, that old habits die hard and it's likely that there are still practitioners out there who haven't totally abandoned them. But even if aversives were never a thing, there are still massive issues with ABA. Two of them are erasure and lack of agency.
The Buzziest of Buzz Words
You may have rolled your eyes at the words, "erasure" and "agency". I kind of don't blame you. Like a lot of other concepts, these two ideas have been beaten into the ground, mostly because progressives can't fucking help themselves when they find they find a new buzzword. But, here's the thing: they're actually good and important principles that affect how we treat and/or see people. In the clusterfuck that is ABA, as with other instances, they work hand in hand. A big part of ABA's appeal to parents, educators, and therapists is that it makes autistic people "normal", the implication being that we are abnormal. That implication is based on something as intrinsic as the way our brains are wired and it's basically saying we exist wrongly. Think about that for a minute, the gold standard of treatment for autism–and to a lesser degree, ADHD–tells people they are wrong at the most basic level. Are you beginning to see why we hate ABA so goddamn much?
And, if that's not enough, there's agency. Agency refers to the ability of an individual to act and make choices for themself. ABA negates agency because it is done to the subject rather than with them. There's also that whole "making autists normal" thing. The assumption that we need, or even want, to be "normal" is shitty in and of itself. Because the fact that no one bothers to even fucking asks us whether we want to be "normal" is wrong on a goddamn cosmic level. Factor in that ABA is often used on kids and you level up the fuckery even more. I mean, it's bad enough to take anyone's agency away. But taking it away from people who are unable to push back, often because they don't even know they should have it? That is so much fucking worse. So yeah, ABA fucking sucks.
What If We Did Something Different?
So, what's the bottom line of this rant? How about this: if you're considering Applied Behavioral Analysis as a therapy for your autistic kid, examine your motives. If there's anything in there about making it easier for you, recon-fucking-sider. Because, as I said earlier, the message of ABA is that autistic kids are broken and need to be fixed. It's a message that will stay with them for the rest of their lives and that's a shitty thing to hang on someone you love. So, what should we do with our socially awkward weirdos? What if we just let them be weird? And if they don't fit into society, instead of forcing them into damaging therapies, what if we forced society into some therapy so it could learn how not to suck so fucking much?