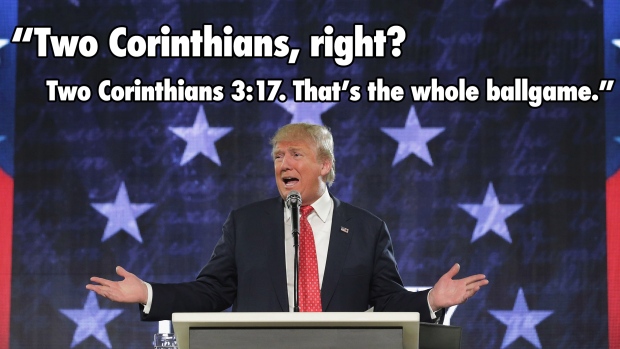 Like a lot of folks this election season, evangelicals are struggling with the "lesser of two evils" argument. Interestingly, many of them are reacting the same way as progressives: contemplating either a third-party vote or not voting at all. Today, I want to address a couple of  articles advising evangelical and fundamentalist Christians on how they should vote by laying out a biblical or moral case for Donald Trump.
The first is from Wayne Grudem, titled "Why Voting for Donald Trump Is a Morally Good Choice". The second is "To The "Never Trumper"- A Biblical Case For Trump" (no author credited). Perhaps the most interesting thing about these two articles is that neither present anything particularly biblical or moral about Trump. I wondered why that might be and began comparing some of Trump's actions and words with scripture and found that much of what The Donald has said, done or proposed flies in the face of almost everything Chirstians stand for. Here are a few examples:
These are just a few of the things that I found and I believe that they, along with the scripture references provided, conclusively debunk the idea that there is a biblical or moral context to vote for Donald Trump. You can vote for the man if you want, but you probably shouldn't use the Bible to justify it. Because it just doesn't hold up.