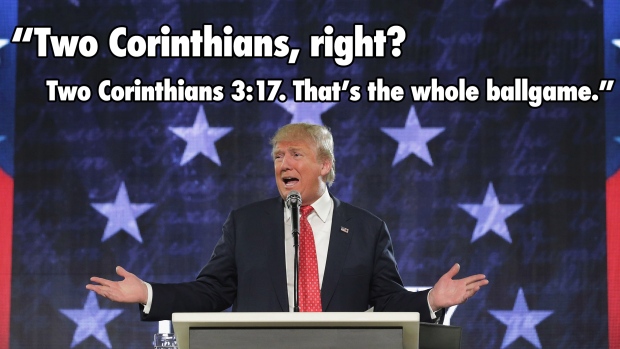 On a recent episode of "Last Week Tonight", John Oliver said, "Donald Trump is America's back mole. It may have seemed harmless a year ago. But, now that it got frighteningly bigger, it is no longer wise to ignore it." And, much as I wish he wasn't, he is absolutely right. Especially since Trump is starting to pick up endorsements. The political ones, like Chris Christie or Jeff Sessions, don't bother me a whole lot. Christie's performance in the primaries shows that Americans think he's a tool and Sessions has only to open his mouth for people to figure that out. No, it's the religious leaders jumping on the Trump bandwagon that are most disconcerting to me.
Yes, beloved, I said "religious leaders". Amazingly, The Donald is picking up a good deal of support among evangelical Christians. The list of endorsements from that quarter reads like a Who's Who of the Religious Right. There's
Jerry Falwell, Jr.
Kenneth and Gloria Copeland
David Jeremiah
Jan Crouch
Paula White
Robert Jeffress
This list is not exhaustive, it only includes the ones I could verify this morning.
There is one endorsement that I feel deserves more than a mere mention in a list and it comes from James David Manning, "pastor" of ATLAH World Ministries. In the past, Manning has claimed that Starbucks uses semen to make their lattes "even more flavorful" and that gay men would "carry babies in the testicles for nine months and then gestate them out of their assholes" before the City of New York foreclosed on his church for non-payment of water bills. Understand that if you're backing Trump, you agree with this psycho. Chew on that for a minute.
Of course, Manning isn't the only "controversial" figure who has come out in support of The Donald; there's a group with views even more disgusting than Manning's who are lining up behind Trump: white supremacists. And, he's cool with that.
Okay, given his comments about Islam and immigration, it's really no surprise that Ku Klux Klan chiefs like Rachel  Pendergraft (national organizer for the Knights Party, a KKK standard-bearer) and former Grand Wizard David Duke like what they hear. But, it is more than a little shocking that, in 2016, a candidate for the highest office in the land refuses to disavow their support. This is not a joke, people. Trump actually refused, on national television, to condemn an endorsement from the Ku Klux Klan.
Yesterday, on CNN's State of the Union, host Jake Tapper gave The Donald multiple chances to distance himself from these people. Tapper brought up Duke's message to white people that voting against Trump would be "treason to your heritage" and Trump…, well,  you just have to watch it for yourself:
Well, that's "problematic" (and yes, I realize that is an understatement of massive proportions). But, even more problematic is the fact that it doesn't seem to bother the Christians who are flocking to his campaign. You'd think the last thing people who follow Jesus would want is to be allied with representatives of what may be the most odious organization in American history (the GOP is coming on strong). But, I guess not. There's no outrage, no calls for a boycott of all things Trump. Basically, there's just silence. So far, all I've seen is Robert Jeffress' answer to The Daily Beast's request for a comment:  "Thanks but I think I'll pass on this one!"
Siding with the Klan is right where you want to be as a Christian, isn't it? You know, it's one thing to watch Trump bullshit his way through hard questions (which are "hard" because he can't answer the way he should for fear alienating a large part of his base), but it's another to see a Christian run from the opportunity to call Trump out for not rejecting the support of such an awful group. It's called "speaking truth to power" and it used to be a thing in Christianity. But, these days? Not so much, it seems.