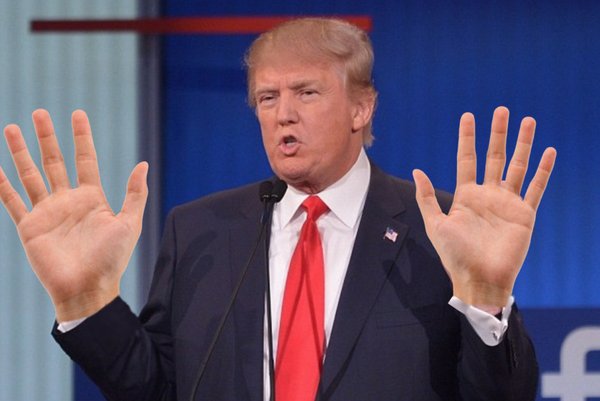 In the past month or so, I have written a couple of posts about Donald Trump's appeal to evangelical Christians. And, guess what? I'm doing it again! I keep returning to this topic because I find it fascinating. Besides, I wouldn't be a very good curmudgeon if I didn't salivate at the idea of Christians following a narcissistic, money-hoarding billionaire with a xenophobic streak a mile wide.
One of things that makes The Donald's campaign so interesting is that no matter what bat shit crazy offensiveness falls out of his face hole, his numbers go up. As I told you Monday, he was…, reluctant, to disavow endorsements from David Duke and the Ku Klux Klan. Now, you would think something like that would be political suicide. But, guess what happened on the next poll? If you said he picked up 8 percentage points from the previous one, you are correct. Holy shitballs.
Today, I had every intention of writing about Phyllis Schlafly, who endorsed Trump back in December as "the last hope for America", and her latest brain fart (basically, she said that baseball was better back in the 40's, before all those brown people started playing). But, that shit is out the window after last night's Republican debate.
Before we dive into that cesspool, you'll need a little background. When Spy magazine was still relatively new on the scene, they wanted to make a name for themselves. To do this, they started making fun of Trump because his well-documented inability to let a slight pass  was sure to get them some much-needed attention. They hit the jackpot in 1988 when they referred to him as a "short fingered vulgarian". For some reason, this phrase gets under Trump's skin worse than any other insult hurled at him. The only thing close is questioning his net worth.
Interestingly, it wasn't being called a "vulgarian" (an unrefined person, especially one with newly acquired power or wealth) that upset Trump, it was the idea that his fingers aren't "long and beautiful". We know this because, in  2015, Spy founder (and current editor of Vanity Fair) Graydon Carter wrote that he still gets occasional notes from Trump with pictures of his hands circled in gold Sharpie, the use of which Jon Oliver says is "so quintessentially Donald Trump: something that gives the passing  appearance of wealth, but is actually just a cheap tool."
Now, fast forward to Sunday, February 28th at Roanoke College in Virginia. During a rally there, candidate Marco Rubio took off the gloves and said, "I don't understand why his hands are the size of someone who is 5'2. Have you seen his hands? They're like this. And you know what they say about men with small hands?" He paused for dramatic effect, then added, "You can't trust them." Damn, this is the most interesting presidential campaign since 1800, when Thomas Jefferson called John Adams a hermaphrodite.
That brings us up to last night, when a debate between candidates for the highest office in the land turned into a dick measuring contest. When asked about Rubio's personal attacks (in addition to the comment about his hands, Marco went after The Donald's "spray tan"), Trump, true to form, responded, "Look at those hands. Are they small hands? And he referred to my hands — if they're small, something else must be small. I guarantee you there's no problem, I guarantee." I cannot stop laughing at all this. Between bouts of sheer terror at the possibility this human hair ball might actually be President, of course.
I'm wondering if we're now at a turning point. Sure, Trump's evangelical supporters have stood by him while he's touted his unabashed greed, displayed an astounding ignorance of the Bible with his "Two Corinthians" quote (I always want to add, "walk into a bar" when I say that), and torn up the Gospel with his comments on immigrants and Muslims (Matthew 25:34-46). But, now sex is in the picture, and we all know how they feel about that. So, what's it going to be, evangelicals? This man has trashed everything you claim to hold dear. Are you going to stick by him? But, don't worry, there's no pressure. Only the whole world is watching.