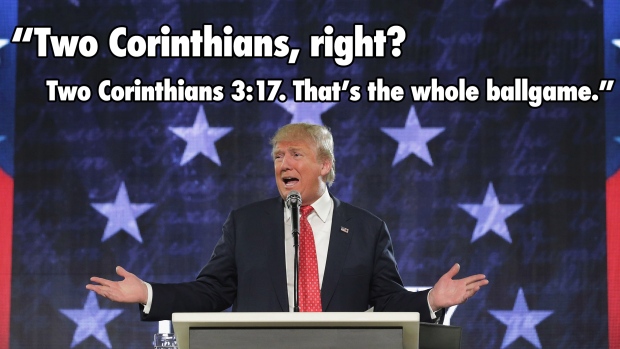 Since the beginning of the year, I have written several pieces about the tangerine-hued hairball the Republican Party has hacked up on our political rug, aka Donald Trump. Most of them have focused on my bewilderment at evangelical Christians support of Trump and the fact that, no matter what he says or does, the man's popularity continues to grow.
According to a report from the Pew Research Center, Seventy-eight percent of evangelical Christians support a thrice-divorced casino owner who has committed adultery on numerous occasions, made multiple semi-incestuous comments about his daughter and appeared on the cover Playboy. Wait, what? Isn't this stuff on their laundry list of mortal sins? I am so confused.
In part, this groundswell of support may be due to the fact that evangelical leaders absolutely love them some Trump. (Is it just me or that sound vaguely sexual?) From Jerry Falwell Jr. to Pat Robertson to James Dobson and more, the big names on the Religious Right are falling all over themselves to endorse this baby-handed fucktrumpet. You have no idea how much I wish I was making this up, but I…Am…Not.
First up there's Liberty University president and first-born son of Jerry Falwell, religious right icon and founder of the Moral Majority. Falwell has endorsed Trump offered up his university as a forum for this unhinged Oompa Loompa. Trump may have appeared on a Playboy cover, but he was never in a gay cartoon. And, isn't that what really matters?
Then there's James Dobson, founder of Focus on the Family and the Family Research Council, who has personally vouched for Trump's evangelical bona fides. Recently, at a meeting with Trump and evangelical leaders, Dobson said that Donald had "found" Jesus. (He was hiding behind the couch the whole time.) Obviously, Dobson and I have very different ideas about what it means to be a Christian.
Finally, there's Pat Robertson, the televangelist's televangelist. Pat is famous for his gaffes and crazy talk and his interview with The Donald was no exception. At one point, he tells Trump "You inspire us all". Inspire us all? To do what? Shit on immigrants? Dump on veterans? Relentlessly attack anyone who is remotely critical of anything you say or do? If you're a Christian and Donald Trump inspires you to do anything other than vomit, I'm pretty sure you're doing Christianity wrong.
This love is filtering down to the masses, too. Check out this report from Full Frontal with Samantha Bee:
Did you get that? If not, starting at the 1:17 mark, an evangelical Trump supporter says, "I believe, truly, that Trump is appointed by God to lead this nation back in the direction it needs to go." Another states that "Donald Trump is the answer to our prayers." But, perhaps most chillingly, is this remark from a young (possibly pre-teen) man: "We know that he is a godly man." Holy Shitballs, you guys!
Someone, somewhere, may read this and think, "Yeah, but what about Hillary? She's no paragon of Christian virtue." Yes, you are correct. Clinton's embrace of Wall Street and support of the use of force overseas should cause any Christian worth their salt no small amount of distress. But, there are two "yooge" differences: 1) Clinton hasn't attempted to make her faith part of her brand the way Trump has and 2) she isn't receiving the same, hypocritical praise that is falling on the Donald.
In a recent Facebook discussion with some of my friends who support Trump, one said that "we do not have a true Christian option for president." I responded that, given all the compromises one has to make to even run for President, I'm not sure a true Christian option is possible and he agreed. So, why don't we drop all the bullshit about a candidate's faith and judge this solely on the basis of who will do the best job? Yeah, don't bother responding; I already know the answer.