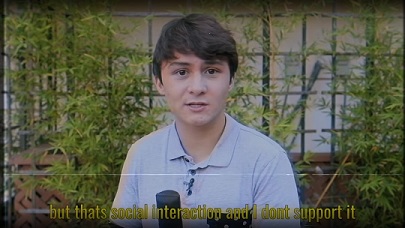 In a recent sermon, my friend Michael Usey said that most of the time we want be self-sufficient, fully self-contained. This desire, however, is often shattered. Perhaps by the laughter of a child, the desire to share something good with a friend, or the need for a shoulder to cry on. As someone who struggles with social interaction due to my neurodivergence, I'm just the opposite. You see, I yearn to be self-sufficient. I long to be totally self-contained. I want nothing more than to be completely free of the need to interact with another human being. Ever. That, unfortunately, is not in the cards as I am abso-fucking-lutely cursed with society.
The Desert Fathers Had the Right Idea
After reading the previous paragraph, you may be thinking, "Wow, Joel. Why so extreme?" All I can say in answer to that is, you must be new here. Because one of the founding premises of this blog is that people fucking suck. Honestly, the desert fathers had the right idea: find a cave and remove themselves from society altogether. That's really the dream, you know? A cabin in the woods, where it's just me and my thoughts, and absolutely no people around to fuck things up. The only problem is I'm afraid that if I do that, I'll turn into Ted Kaczynski, living in the woods in a shack whose walls are lined with jars of my own pee. I will admit that it scares me a bit that the whole "walls lined with jars of my own pee" isn't the dealbreaker as you'd think it would be.
What's So Bad About People?
Really? Are you still on about this? I mean, it's like you haven't read a single thing I've written on the subject. Okay, fine, here's a short list of why people suck so fucking hard:
Me, Social Interaction, and Neurodivergence. Not the Greatest Mix
I include myself when I say people suck because I am just as guilty of being awful as anyone. Sometimes, it's within my control, other times, not so much. Like when things go wrong and I have a meltdown. I don't like myself very much in those situations, even though I don't have a ton of control over them. It's especially bad when I'm having a total shit fit, knowing I'm having a shit fit and making everyone in the general vicinity so goddamn uncomfortable because I'm having a shit fit. When that happens, I'm not the ray of fucking sunshine society tells me I have to be all the fucking time. So, on top of dealing with all of society's shit, I have to work out some fucking guilt that isn't always my goddamn fault. I hope you're beginning to understand that comment about "walls lined with jars of my own pee" not being a hard and fast dealbreaker.
And, Now For Something Completely Different… Sort of
The thing is, we all make contracts with society. This came up during the talkback portion of the aforementioned sermon when someone mentioned a book titled "The Four Agreements" (I think it's this one but I'm not sure). They said that at various times in our lives, we make a bunch of shitty agreements about how we'll live our lives. In western culture, we agree to get married, have a big family, own a big house, have multiple cars, etc. Basically, we agree to consume a fuck ton of crap. What struck me about this is that we make these agreements when we're very young and in no way equipped to make such a pact. Now, a decent person would never hold a child to something like that, but society? Society is not decent. Society is a motherfucker. Because it doesn't like it when you break those agreements even though you made them when you had no fucking idea of what you were agreeing to.
Society, Social Interaction, and Neurodivergence: Who Gets The Blame?
You'll notice that I lay the blame for all of this on social interaction issues on society and not my neurodivergence. That's because those issues come from the way society deals with neurodivergent people. And by "deals with", I mean "doesn't deal with at all". The neurotypical world does very little to help those of us who are neurodivergent. And what is done often isn't all that helpful. Some of those things, like Applied Behavioral Analysis, can be actively harmful. Really, all we want from neurotypicals, from society in general, is to be accepted and valued as human beings. We don't need you to make us "normal", we just need you to be decent to us. Or, at the very least, leave us the fuck alone and let us deal with our shit. That's not so much to ask, is it?