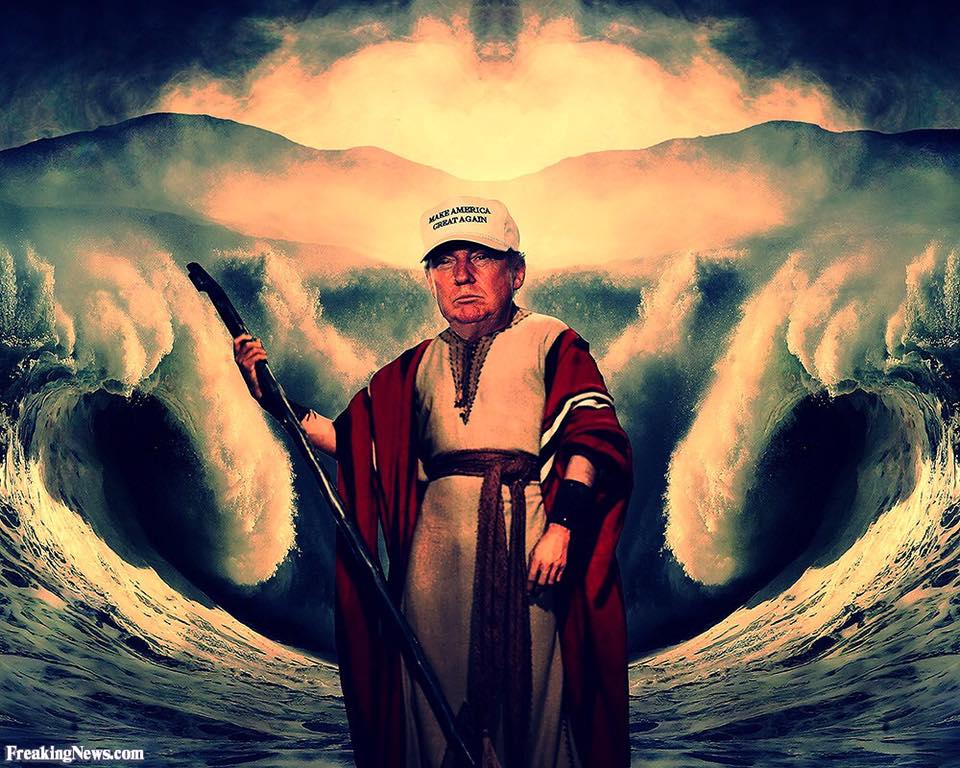 If you're thinking "What the fuck?" right about now, I don't blame you. When I heard that shit, I was stunned myself. But, it's true; Donald Trump is the messiah…, or, more likely, the harbinger of the messiah, a la John the Baptist. Well, according to end times nut case author and lecturer, Thomas Horn, he is.
Horn bases most of his claims about Trump on the words of some Orthodox Zionist rabbis who have reconstituted the Sanhedrin and are pushing to rebuild the Temple. I'm guessing these rabbis view Horn and compatriots as useful idiots who will help them reach that end. Which probably is okay with Horn and his end times believing pals because they think the rabbis are all dirty Jews who will be cast into the lake of fire when Jesus comes back. It's what you might call a weird evangelical/Orthodox mutual contempt society.
This insanity is way to convoluted to get into with any depth here. Basically, it sounds a lot like this clip of Cartman explaining the 9/11 attacks from South Park's "Mystery of the Urinal Deuce" episode:
Like I said, a bit much for a blog post. But, here are a few highlights:
The End of Days will come sometime next year. This goes back to Daniel's "time, times, and a half a time" comment. According to an obscure 17th century interpretation of that passage, the messiah will appear and the end times will begin before September 30, 2017 (the end of the year 5777 in the Jewish calendar). Guess Jesus was just kidding with all that "thief in the night" business. What a joker.
Horn even goes so far as to say that, in gematria (Jewish numerology), Trump's name actually means "messiah". And, I guess it does, if you go down a rabbit hole that makes Alex Jones' wildest conspiracy theories seem positively sane. If you're a glutton for punishment and want to read the actual article, here's a link.
He presents 3 bullet points that he feels point to Donald Trump, not as the messiah himself, but as John the Baptist. But, he does say that there is an ongoing effort to research Trump's genealogy and show that he is a descendant of David. No joke on this point. I don't think it needs one.
Of course, Horn tells us that this messiah the rabbis are saying is about to appear is a false messiah, the Anti-Christ. And, that he believes that Trump isn't the Anti-Christ. Why? I'm assuming because he thinks a white, American man can't be the Anti-Christ.
Trump is "God's messenger". What the hell kind of message God would send through an asshole like Trump, I don't know. And, what kind of God would choose a semi-sentient hairball for their messenger doesn't bear contemplation in my opinion.
All things considered, Horn's pronouncements are not bad. It's all bullshit, of course, but still not bad; for entertainment value, that is. Horn has some game in this arena, but even with all his "Trump is the messiah" talk, he's still no William Tapley, the self-proclaimed Third Eagle of the Apocalypse and Co-prophet of the End Times. But then, who is, beloved? Who…, is.