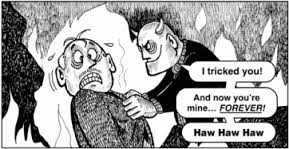 So, Jack Chick died last week. You may not know who he was and, if that's true, you should probably count yourself lucky. If you are that fortunate, let me give a little background. Chick was a cartoonist and publisher best known for something called "Chick tracts": tiny, little fundamentalist/evangelical comic books that attempted to scare people into getting "saved" and almost always featured Satan at the end. Subtly may not have been Chick's forte, but he was a master at scaring the shit out of me. That son-of-a-bitch was the author of many of my nightmares as a gullible, evangelical kid.
You see, from the ages 10 to 16,  my family was part of a hyper-religious, charismatic, evangelical group that witnessed to anyone, in any place, at any time, and in any situation. No matter where we were, we were never without a supply of evangelizing material and Chick tracts were a huge part of our arsenal. They weren't handed out in person; usually,  they got stashed away someplace where an unsuspecting heathen would accidentally stumble across them, and BAM! They got ambushed with the fear love of Satan God. We were masters of passive-aggressive evangelism.
Because we always had a ready stash of these fucked up little comic books (and because I love a comic book), I was inevitably drawn to them. I also don't think my parents wanted me to see them because they were never offered up for my brother or I to read. In fact, I really don't remember being handed one to pass out on my own; they were just there. In fact, they were held back just enough to make them seem like forbidden fruit, thus making them all the more attractive to me.
I can remember almost every Chick tract I ever saw, which is really no big feat because they're basically all the same. Oh, they may have different characters or evils to rail against, but the theme, the dialogue, and the mood were identical. But, the most enduring image is the Devil that was at the end of every pamphlet. That motherfucker creeped me out like you wouldn't believe.
It wasn't just Chick tracts, though. As a kid growing up in the weird quasi-Pentecostal world of Charismatic Christianity of the late 60s and early 70s, I was exposed to multiple exorcisms, for others and myself (at the time, some crazy-ass cult leader said my ADHD was actually an "evil spirit of laziness") and"facts" like Ouija boards being a doorway for demonic possession. To this day, I can't watch "The Exorcist" (the first one. No one can watch the sequels) and I avert my eyes or change the channel when trailers for that damn Ouija board movie show up on television. Yes, beloved, I was in on the ground floor of the great "Satanic Panic" that gripped the 80's. And, it was just as fucked up as it sounds.
As I said at the beginning of this piece, Chick died last week and a week is an eternity in the blogosphere. But, with all the baggage surrounding this subject, it's taken me that long to process my feelings on the matter. And, even now, I'm not really sure how I feel about it, other than to say I hope "Haw, haw, haw", was the first fucking thing the old bastard heard when he awoke in whatever afterlife situation in which he landed. Not only that, I hope they were uttered by that creepy-ass Devil he took such glee in rendering. I know that's not very Christian, but it's about all the grace I can muster, right now. Sayonara, Jack. You won't be missed. Not by me, anyway.