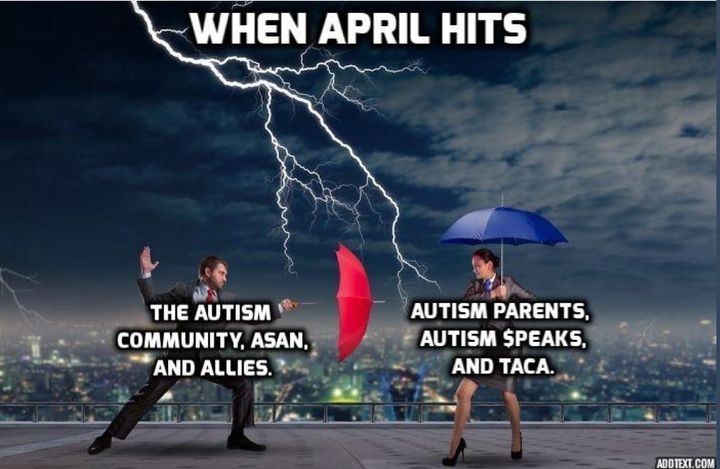 Well, it's Autism Awareness Month and you know what that means. Yep, all the media's talking heads yakking it up about ASD like they have any fucking clue of what they're talking about. And, then on May 1st, carrying on like the past 30 days didn't even happen. Unfortunately, NDs are used to it because this is the way neurotypical society deals with any form of neurodivergence. Well, it is when said society wants to come off as not being actively shitty. Otherwise, the fuckery is neck-goddamn-deep. The thing is, I'm torn about the whole fucking mess. I am not a fan of this shit but I did remember it and, considering that I didn't catch ADHD Awareness Month until it was over, I'm kind of happy about that. But, today, let's talk about awareness campaigns and what they bring.
Is Autism Awareness Month Even Necessary?
In a word, yes. Considering how many people have a fucked up view of what autism actually is and how it works, it is abundantly fucking clear how much we need to raise some awareness. To that extent, awareness campaigns in general, and Autism Awareness Month in particular, are necessary. The problem comes in the way the campaigns are run. Not to mention, the ulterior motives that many organizations have in conducting them. Often, the campaigns are less about awareness and more about cash. We don't need to look further than the work of the Susan G. Komen foundation to see that. But there's another, bigger, problem with Autism Awareness Month and that's the group that started it.
That Goddamn Puzzle Piece
Generally, when you see the puzzle piece connected to anything autism related, you think of Autism Speaks. And, while they are a bunch of fuckweasels, they're not alone. Fun fact, Autism Speaks didn't come up with the puzzle piece symbol. That "honor" goes to the Autism Society of America, which just happens to be the group that came up with Autism Awareness Month. Founded by Bernard Rimland and Ivar Løvaas, the Autism Society's track record isn't exactly stellar. That's not really surprising considering the problematic nature of its founders' work. Rimland advocated pseudoscientific theories for the causes of autism (vaccines) and "treatments" (chelation) while Løvaas is the father of Applied Behavioral Analysis (read more about this doucheknuckle and his fuckery here). And the organization itself has pushed some pretty shitty stuff. Recently, they've taken a few steps in the right direction, but that doesn't outweigh the crap they've foisted on us in the past. And, that includes this awareness bullshit.
Is Autism Awareness Month Helping?
But all of that negative shit aside, we should ask ourselves if this neurotypical fuckery is actually helping. And the answer is "Not, not really. Well, maybe a little bit. As I say in the previous paragraph, there are a fuck ton of people who, while they know autism exists, don't understand what it is or how it works. Unfortunately, most campaigns don't seem to include input from actual autistics. Because of that, the picture they paint is filled with folks who have high support needs and the valiant, selfless neurotypicals who have given their lives over to caring for them, i.e. autism moms and inspiration porn. And, that is not good.
Enough With the Inspiration Porn
If your only exposure to ASD is all this awareness bullshit, you probably think everyone with autism is a "savant", i.e., someone so mentally impaired that they can't care for themselves but have an incredible ability in math, music, art, or some other field. Think Raymond in the film, "Rainman". But the reality is that autistic people cover a vast fucking spectrum from those whose support needs are so great that they can't take of themselves to people like me who live and work and maintain a household. People who, if they hadn't told you they were autistic, you wouldn't even fucking know. But people like me don't inspire folks to write fat-ass checks to shitty organizations like Autism Speaks or the Autism Society. But you know what does? All those videos/stories/blogs that show the above-mentioned autism mom unselfishly giving up her career to advocate for her handicapped kid. And, I think we've seen enough of that shit.
It's Not Like That
Perhaps the most damaging part of Autism Awareness Month is that inaccurate picture I wrote about in the previous paragraph. You know, the whole "rocking in the corner/brilliant fucking savant" shit. You would not believe the number of people who congratulate me because I don't "seem autistic" or even flat-out say that I can't be autistic because I don't fit that fucked up profile. But here's the thing: my autism doesn't have jack shit to do with whether it's obvious to the outside world or not. My brain does shit differently and that can cause problems for me in this fucking dystopia neurotypicals call "the world". The fact that y'all can pick up on it means that I'm adept at hiding it, not that it doesn't fucking exist.
The Takeaway
So, what do I hope you've gotten from this rant? A few things, actually. First, that however altruistically they may start, awareness campaigns inevitably end up being about the money. Second, Autism Awareness Month is pretty much an autism charity gig. And, autism charity is absolute shit because we don't fucking need "charity", we need acceptance. Third, if this month does raise your awareness and you start digging deeper and learn something about the condition, that makes me happy because it shows that good shit can come from awful people and organizations.  And, that maybe the world doesn't suck quite as much as I thought. Okay, probably not that last bit, but I wanted to end on a positive note. Whatever.