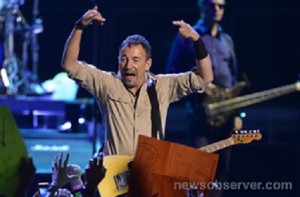 Yesterday was one of the better days I've had in quite a while. I spent the morning with my friends at Love Wins and, that evening, I got to experience something everyone should at least once in their life: Bruce Springsteen and the E Street Band live. Now, on their own, those things would qualify for "good day" status, but it was made better by the fact that I did them with my youngest daughter, Olivia.
Ever since I started volunteering at Love Wins on a regular basis, Olivia has wanted to go with me. But, it seems something has always gotten in the way. Last week, she had planned to go while on spring break but couldn't find anyone to take care of her animals (a dog and a cat). Yesterday, however, things worked out. Since I'd shelled out a pretty nice chunk of change for the tickets, I made sure she'd found someone to look after the livestock and cleared missing a day of school with her teachers. With all the arrangements in place, we took off for Raleigh. She has some social anxiety issues and I wasn't sure how things would go. It can get a little hectic around the Love Wins hospitality house (and by "hectic", I mean batshit crazy), but I needn't have worried. She jumped in and did whatever she could to help out. I was extremely proud of the way she handled herself. She enjoyed it so much, she's already planning her next visit.
In my teen years, I knew who Bruce Springsteen was; but I wasn't what you'd call a huge fan. That changed in a dorm room at Vance Air Force Base in 1981. That night, as several of us hung out, Mitch Peter (from Carteret, New Jersey) played Born to Run in its entirety. I was immediately hooked. Strangely, it wasn't until 2012 that I saw Bruce live. That's when I learned a Springsteen concert is almost as much a religious experience as it is a rock and roll show. For me, that was never more true than during last night's performance of "Land of Hope and Dreams".  Take a minute and watch this performance from the Hurricane Sandy relief benefit:
At some point last night, I realized one of the reasons I love The Boss so much is that his songs embody the same hopeful cynicism I tend to embrace. So many of them are about working class people who know times are hard. but they don't get down and they don't quit; they just keep on going in the hope that things will turn out okay. That really resonates with me. Probably because I'm an apocoloptimist; i.e. someone who knows everything is going to shit, but still thinks things will turn out okay.
You may be wondering what a day at Love Wins has to do with rock concert. Maybe nothing, maybe everything; I'm not really sure, to be honest about it . But, between the two, I'm sure I experienced a thin place yesterday. And, I really, really liked it.