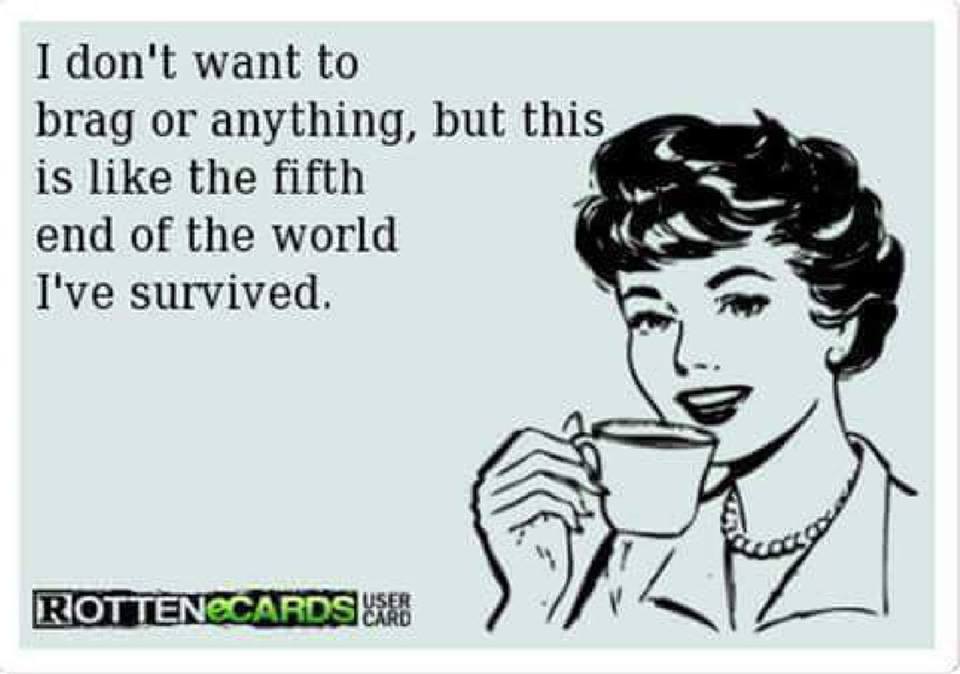 I have to admit I was a little bummed last week, when I missed the opportunity to write about yet another End Times "prediction"; aka, the blood moon. Well, as bummed as one can be while on vacation in the (sub)tropical paradise that is Florida's Tampa Bay area. Early in the week, when this story was actually relevant, I was having some computer problems after "upgrading" to Windows 10 and by the time I got it all sorted out (which cost me $100. Thanks a lot, Microsoft), the iron really wasn't hot enough to strike anymore. With more than a little sadness, I let it go; figuring I could use it for background sometime in the future. Imagine my elation when I read that someone else claims the world is going to end today, a little more than a week from the earlier prediction.
In a series of podcasts, online Christian broadcaster Chris McCann informed us that, "According to what the Bible is presenting it does appear that 7 October will be the day that God has spoken of: in which, the world will pass away." McCann is basing his theory on an earlier prediction by Harold "Save the Date" Camping, who said The Rapture™ would occur on May 21, 2011. And, when that didn't pan out, changed his prediction to say that the world would end 5 months later, on October 21. McCann, using what has to be some of the most impressive mental gymnastics ever, has decided that A) on May 21, 2011, God stopped saving people and B) October 7th marks the 1600th day since that happened, so it's all going down today…, maybe. You see, McCann did learn something from Camping's little boo-boo. Not "better understanding of the text" or anything else so mundane, of course. No, what Brother Chris seems to have gathered from the shitstorm that surrounded Camping's failed attempt at prophecy is "hedge your bets".
Everything I'm reading from this latest "the world is gonna end!" hysteria is filled with phrases such as "strong likelihood" and "it does appear that". McCann even goes so far as to say that there is "an unlikely possibility" that we won't have a hot time of it today (because God will burn all this shit up, per 2 Peter 3:10). Is it just me or is that some weak tea when it comes to an end-of-the-world prediction? I don't know about you, but I prefer my End Times prophets to have a little more conviction than McCann is showing. I mean, shit, if you're not sure you believe it, why should I?
As have others in the past, McCann's divination has me wondering where all this…, "stuff", came from. Because, after engaging in some bible study, I know that most of what they go on about isn't even in the Bible. Of course, that brings up the question of why do people believe it if it's not in there?  I think it's because that nutjob Darby came up with a cracker jack story. You've got to admit that while futurism might be sucky theology, it does makes one hell of a science fiction/fantasy tale. In fact, it already has. I'm speaking of the Left Behind series, of course. And, maybe I'm reaching here, but an amazing story is the only way I can think of that explains the popularity of books whose writing makes "Twilight" and "Fifty Shades of Gray" come off like classical literature.
I know this is a bitter pill to swallow, but we must face facts: the historical interpretation of Revelation (e.g., it's "the declaration that Jesus will return, justice will be granted to the oppressed, and all things will be made new") is nowhere near as interesting as the craziness version that occurs in "Left Behind". While we're at it, we should also admit that, unless you've spent a lot of time studying it, the book of Revelation makes about as much sense as the space opera back story of Scientology. I mean, seriously, is there really that much difference between Lord Xenu loading several billion of his citizens onto Douglas DC-8's and sending them to Earth, only to be killed by h-bombs exploding inside volcanoes (to steal a line from South Park, "This is what Scientologists actually believe") and the fifth angel's trumpet unleashing hordes of scorpion-locusts whose sting inflicts such terrible pain that people try to kill themselves, but can't die or a skanky chick riding on 7-headed beast that's covered in blasphemous names? They both sound like mushroom dreams; but only one of them is about "what happened when God got religion."
Do you honestly think an appeal to reason is going to stand up against that kind of thing? Hell, we can't even get conservatives to understand that the Planned Parenthood videos are full of shit when the evidence is right under their noses, so what makes anyone think  boring explanations about what Revelation actually means won't fall flat? Part of me says we need to come up with a story that can compete with dispensationalism, but another part says that reinterpreting scripture to counter a reinterpretation of scripture makes about as much sense as saying the Beast of Revelation 13 is the Anti-Christ when that term doesn't even appear in Revelation. (See what I did there?) But, right now, we're pretty much fiddling while Rome burns (A Nero reference. Get it?) and we all know how that ended up.