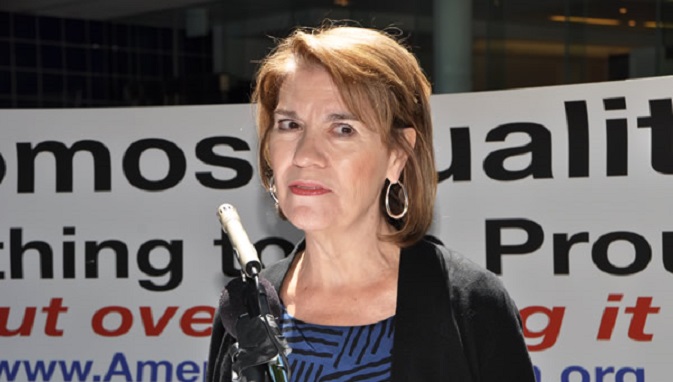 You may not know this, but being a homophobic asshole is not without its pitfalls. Don't think so? Just ask anti-LGBT activist Linda Harvey. PinkNews reports that Ms. Harvey is having a hard time finding places to shop because almost no major businesses oppose LGBTQ equality anymore. Or, in Linda's words:
"For any Christian who wants to spend hard-earned dollars with family-friendly, Christian-affirming retailers, restaurants and service providers, the list is growing shorter all the time."
Oh no, businesses have figured out it's more profitable to treat everyone like a human being, making it hard for you to find like-minded bigots to patronize? How awful.
Right about now , you're probably wondering just who the hell this Linda Harvey person might be (I know I was). Being the helpful, caring soul that I am, I put on my detective hat and started digging that info up for you. Granted, that entailed typing her name into Wikipedia and spending a couple of minutes reading. But, still…
It turns out that Harvey is the president and founder of something called Mission:America, a ministry which she established "to equip Christians with current, accurate information about cultural issues such as feminism, homosexuality, education and New Age influences. " While there are other issues Mission:America speaks about (paganism and Islam, for example) , their raison d'etre is that dreaded Christian bugaboo: the "Gays" (dun, DUN,  DUNNN!!!).
Oh sure, there are articles on those other topics, but they are vastly outnumbered by the anti-LGBTQ crap. In an introductory post about Mission:America, Harvey writes, "We focus a lot here on homosexuality because of its rising visibility yet controversial place in current America life." Which, if you ask me, is a little funny for ministry dedicated to Christian teachings. I mean, Jesus (you know, that guy we claim to follow?) never said a word about being gay. He did, however, say a lot about loving your neighbor, feeding hungry people and not hoarding (aka, caring for the poor), things I suspect Harvey considers commie propaganda.
So, now that we're up to speed on this fine, Christian woman, let's get back to the story at hand. This fight with retailers isn't a new one for Harvey; by her own words, it's been going on for several years. In the PinkNews article, she says,  "I stopped shopping at Macy's in 2011 after learning about the retailer's grossly unjust policy against women." And, just what policy is so "grossly unjust"? Well, beloved, it seems that Macy's allows people who are transgender to use the dressing room that best fits their gender identity, even going so far as to fire an employee for stopping a trans woman attempting to do that very thing. Oh, the horror!
It's not just Macy's, though.  Target, Harvey claims, has sold "gay pride" t-shirts in the past and "Amazon, General Mills, Google, Facebook, Paypal, Levi-Strauss and others" are joining them in "'proudly standing' with homosexuals and cross-dressers who want to change America's 1964 Civil Rights Act to add 'sexual orientation' and 'gender identity", something she refers to as "anti-American, pro-deviance legislation" Yes, there's nothing quite so "anti-American" as the notion that all people are created equal and deserve to be treated that way.
But, it doesn't end with those companies. Harvey thinks Christians should avoid doing business with (deep breath annnd, go!): Wal-Mart, Best Buy, Abercrombie & Fitch, American Eagle Outfitters, Barnes & Noble, CVS, Dell, DIRECTV, E-Bay, Ford Motor Co., The Gap, General Motors, Hallmark, Home Depot, IKEA, JC Penney, Levi-Strauss & Co., Macy's, Mattel, Nationwide, Nike, Nissan, Nordstrom, Office Depot, Staples, Starbuck's, Target, TJX Companies ( owns TJ Maxx and Marshall's), Volkswagen and Walgreen's. Wow, she's not kidding; there really isn't a place for anti-LGBT shitheads to shop these days.
Now, if I were in Harvey's shoes, I'd take the tidal wave of acceptance of people who are LGBTQ as cue to rethink my ideas on the matter. But, then, I'm not a hard-core culture warrior, locked in battle with Satan for the soul of our country and don't equate "compromise" with "capitulation". Does that mean I don't have the courage of my convictions? Maybe. But, I also don't have problems buying a new underwear when I need it. Which pretty much makes up for any angst I might be feeling on the matter.