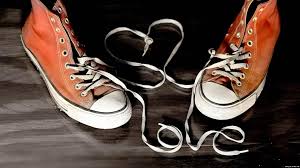 Sometime before the year 30 CE, a lawyer asked Jesus "What is the greatest commandment". Jesus answered "You must love the Lord your God with all your heart, with all your being,and with all your mind." This conversation is recorded in all three synoptic Gospels with some variation. In both Matthew and Mark, the lawyer asks and Jesus answers. In Luke, the format gets turned around with the lawyer asking Jesus how to attain eternal life and Jesus, in turn, asking him what is the greatest commandment.
While the wording of the commandment is consistent, what follows isn't. In Mark, the lawyer praises Jesus' knowledge and understanding of the law. In Luke, the exchange leads to the story of the Good Samaritan. In Matthew, and this is my favorite version, Jesus follows up by saying, "All the Law and the Prophets depend on these two commands." That's a curious statement and I've wondered what He meant by that. Over time, I've come to believe that it was a replacement for a legal system that had grown wildly out of control. At the time of Jesus' birth, there were over 600 laws (613 to be exact) that Jews were expected to follow. These laws ranged from the ethical laws of the Ten Commandments such as "You shall not murder", "You shall not commit adultery" and "You shall not steal" to the dietary laws of Kashrut (where the word "kosher" comes from) to laws dictating the keeping of the Sabbath. Needless to say, it was bit more than the average Joe (Yoe?) could keep up with. With this one sentence, Jesus reduced those 613 different laws down to two simple commandments.
Simple?  Maybe. Easy? Not at all. Believe me, I know; much as I'd love to say I love my neighbor all day, every day, I don't. I don't even come close. I'll let you in on a little secret: I'm not a people person. In fact, I agree with as one of the characters in Christopher Moore's book The Stupidest Angel: A Heartwarming Tale of Christmas Terror who said, "People, generally, suck".  I realize that's a strange way for someone who belongs to a faith based on community to look at things, but I'm complicated that way.  Believe me, Christianity is no easy road for someone imbued with curmudgeonly traits like me.
In the past, I've said I struggle with the mystical aspects of Christianity. I think this is, in part, because I have yet to get a handle of this "love your neighbor" thing (loving God is no picnic, but it's easy compared to this) and my OCD manifests itself in a need to complete things while my ADD constantly distracts me from actually finishing a task. Like I said yesterday,  sometimes, my life is just a big ol' party.
As a rule, I'm not that interested in "deep" theological concepts, I want a theology I can use in everyday life. And, "Love God, love your neighbor" does that. It may not as deep, complicated or advanced as some of the things you might hear. It's a simple (but not easy) way to live. Maybe that's what Jesus was talking about when he said "But the gate that leads to life is narrow and the road difficult, so few people find it." What do you think?