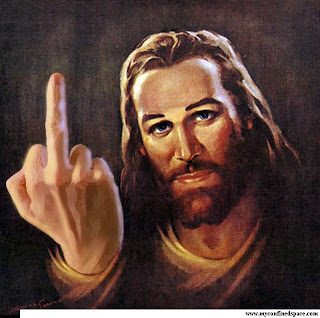 Since we elected Donald Trump to make America great again, I think we need to take some steps to make Christianity great, too. Now, most of you probably believe that Christianity is already great. I mean, God did answer the prayers of hundreds of thousands of Christians in giving the election to Donald Trump and all, but you have to admit, there are areas of Christianity that could use some work. Like all that non-violence talk and the stuff about money that libtards yammer on about. But, the starting point for all this has to be giving Jesus a makeover. And, boy, does he need it.
What, you don't think we need a new Jesus? Boy, have you got your head in the sand. I mean seriously, turn the other cheek and love your neighbor? What a cuck. No, if we're going to make this religion (and this country) great again, we need to follow a real manly man, a jacked Jesus, if you will. I don't know about you, but I have no desire to follow some little pussy who won't even fight back.
To accomplish this makeover, we're going to have tip over a few sacred cows. Like, for instance, the Bible. That will probably be the biggest obstacle in branding our new and improved alt-savior. Yes, I know the Bible is the pure, unadulterated Word of God and every syllable is literally true and needs no interpretation. But, seriously, we've been furtively working the Good Book to our benefit for centuries, what with all the proof-texting and cherry picking. All I'm saying is we stop sneaking and come out in the open.
Our most common weapon should be to just ignore the verses we don't like and focus hard on the ones we do. Like, we just omit all those inconvenient calls to non-violence that Jesus issued and concentrate on the one that goes, "Do not suppose that I have come to bring peace to the earth. I did not come to bring peace, but a sword." Easy peasy, right? Like I said, we've been doing this shit for years. And, the ones we can't ignore just need a little tweaking; you know, sort of like Andy Schlafly did with his Conservative Bible project.
Take that "turn the other cheek" bullshit. In Matthew 5:38-39, Jesus says, "You have heard that it was said, 'Eye for eye, and tooth for tooth.' But I tell you, do not resist an evil person. If anyone slaps you on the right cheek, turn to them the other cheek also." With just a little work, it becomes "You have heard that it was said, 'Eye for an eye and a tooth for a tooth.' But, I tell you do not resist an evil person. If anyone slaps you on the right cheek, pop that motherfucker in the face." Now, that's a guy I can respect!
I'm telling you, this won't be that difficult. I mean, we already elected a thrice-divorced casino owner who has committed adultery on numerous occasions, made multiple semi-incestuous comments about his daughter and appeared on the cover of Playboy, and cited our faith for doing so. All this new movement will require is selling what's left of our souls and giving up the few principles we have left. How hard can that be?
__________________________
Special thanks to Alaina Cobb for the inspiration and revised Bible verse. I couldn't have done it without you, friend!