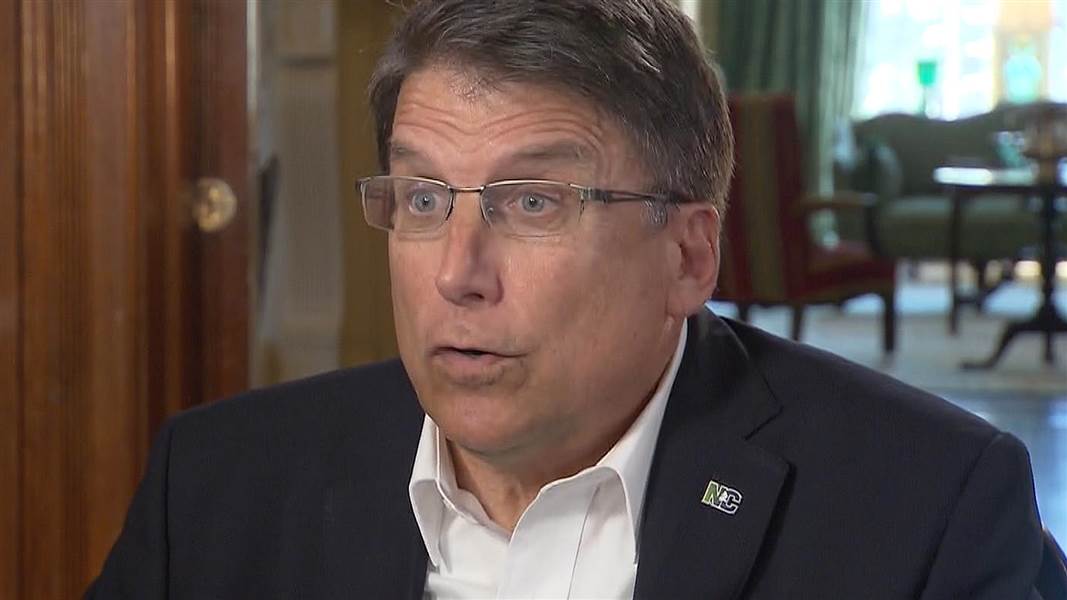 On Tuesday, Governor Pat McCrory went on The John Boy and Billy Big Show in his continuing (pathetic) attempts to control the damage HB 2 is doing to his campaign, not to mention the state of North Carolina. The 15 minute interview was mostly a rehash of the whining and bullshit that has characterized the conservative response to the shitstorm this law has brought on. But, interestingly, he said three things I hadn't heard before.
The first came when he was listing all the people/organizations/companies he considers hypocrites for their stance against the law. In this list, McCrory included a certain rock and roll icon, saying:
"I love Bruce Springsteen. I love his music. But he canceled a concert in Greensboro. By the way, they only had 8,000 tickets sold, with all respect. Hmm. But Bruce doesn't mention that. They didn't get the ticket sales they wanted."
My god, man, if you're going make shit up, at least try and make it believable, will you? Seriously, Springsteen probably can't remember the last time he sold just 8000 tickets for a show. And, if he does, it was probably for a 6000 seat venue.
It's bad enough that the comment was obvious bullshit, but it was bullshit that was incredibly easy to verify. With a single phone call to the Greensboro Coliseum's PR director, Andrew Brown, Politifact found that "The Boss" had sold not 8000 tickets, but 15,000. In fact, there were only about 100 seats left for the show. According to Brown, "It's safe to say it would have sold out." Of course, when they called him on it, the governor apologized for using "the wrong number". Why, that makes everything better!
For the second, ol' Pat slipped up and allowed some genuine honesty into this sad attempt to pander for votes on a show that was filled with what can only be called "sycophantic ass-kissery". At one point, he told these two fawning groupies, "Society is changing quickly and anybody who gets in the way is in trouble. And I might be in trouble. I might be looking for a side job over here." A side job? Pat, if the polls are any indication, you might need to dust off your resume and start putting out feelers for full-time employment.
Those polls show Attorney General Roy Cooper leading McCrory from anywhere between 2-10% (RealClearPolitics average = 4.3%).  That's one hell of a turnaround considering that McCrory held a fairly consistent lead over Cooper (as much as a 7% at its highest) prior to the passage of HB 2. Afterwards, though? It's been all down hill for McCrory, with the last 4 polls showing Cooper ahead. Saying that it's not looking good for the guv is a lot like saying George Wallace was "a little racist".
The third was, umm, ahh, oh what was the third? There was Springsteen didn't sell many tickets, "I might be in trouble" and, let's see…, I can't. The third one, I can't…, oops. Yeah, I know that joke goes back a ways, but it's a classic.
You know, as much fun as it is to watch the disintegration of the Republican Party on a national level, seeing what's happening to these local turds is giving me a joy boner. With any luck, it'll stay up until November.