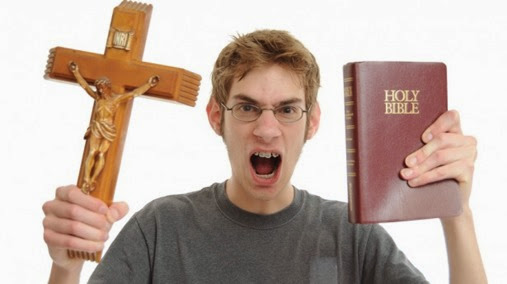 It's a well-known fact that conservative Christians are the modern-day equivalent of those legalistic, New Testament buzzkills known as the Pharisees. From their obsession with sex to their penchant for out-of-context quotation of the Bible, conservatives are doing their level best to live out H. L. Mencken's definition of puritanism: "The haunting fear that someone, somewhere, may be happy." (because progressive obsessions [political correctness, gun control, non-violence, etc] are so much fun).
Take that Kim Davis woman, for instance. Where does she get off claiming "God's authority" in denying others their legal right to marry when she's been married 4 times herself. Someone needs to tell this woman that Jesus didn't say anything about being gay, but he had plenty to say about infidelity and divorce (He also had a lot to say about not judging others and loving our neighbor, but let's not muddy up the waters with such inconvenient passages). And, now she has a  book deal? Seriously? (Actually, she doesn't. But, again, why wast time considering things that contradict what we want to believe?) And, what's up with that hair? If she wasn't so shitty to gay people, maybe she could find someone to take care of that for her. (Yes, because "the gays" are all about doing some hair.)
I just don't get all this bigotry against people who are LGBTQQIP2SAA (explanatory link included for all the troglodytes who can't keep up with this ever-changing acronym. And, I include myself in that category). Why, oh why can't they be as Christ-like as we progressives are and join us in this march toward justice for all? I realize this shakes the foundations of everything they've been taught, but if they'd join us in the 21st century (and by "join us in the 21st century", I mean "acknowledge that we're right and they're awful people"), things would be so much easier better.
As much as I don't get their anti-gay stance, the political beliefs of conservative Christians baffle me even more. I mean, these people support Donald Trump, for God's sake! Think about that for a minute; followers of Jesus, a man who preached radical inclusion and eschewed wealth and all its trappings, are losing their minds over a narcissistic money-hoarding billionaire with a xenophobic streak a mile wide (yes, progressive politicians, like Hillary "I love Wall Street" Clinton are pure as the driven snow). Honestly, though, my biggest issue is their mixing of faith and politics (something progressives would never do themselves). Okay, so maybe we do allow our faith to influence our political beliefs, but our intentions are good (and we know what road those have paved).
Isn't it great to be a progressive Christian? I mean, what other belief allows you to fill social media with posts pointing out (to God and everyone else) all the ways you're not like those bigoted, narrow-minded conservatives?