Yesterday, after a great worship service and breakfast with my friends, I walked out of church to this: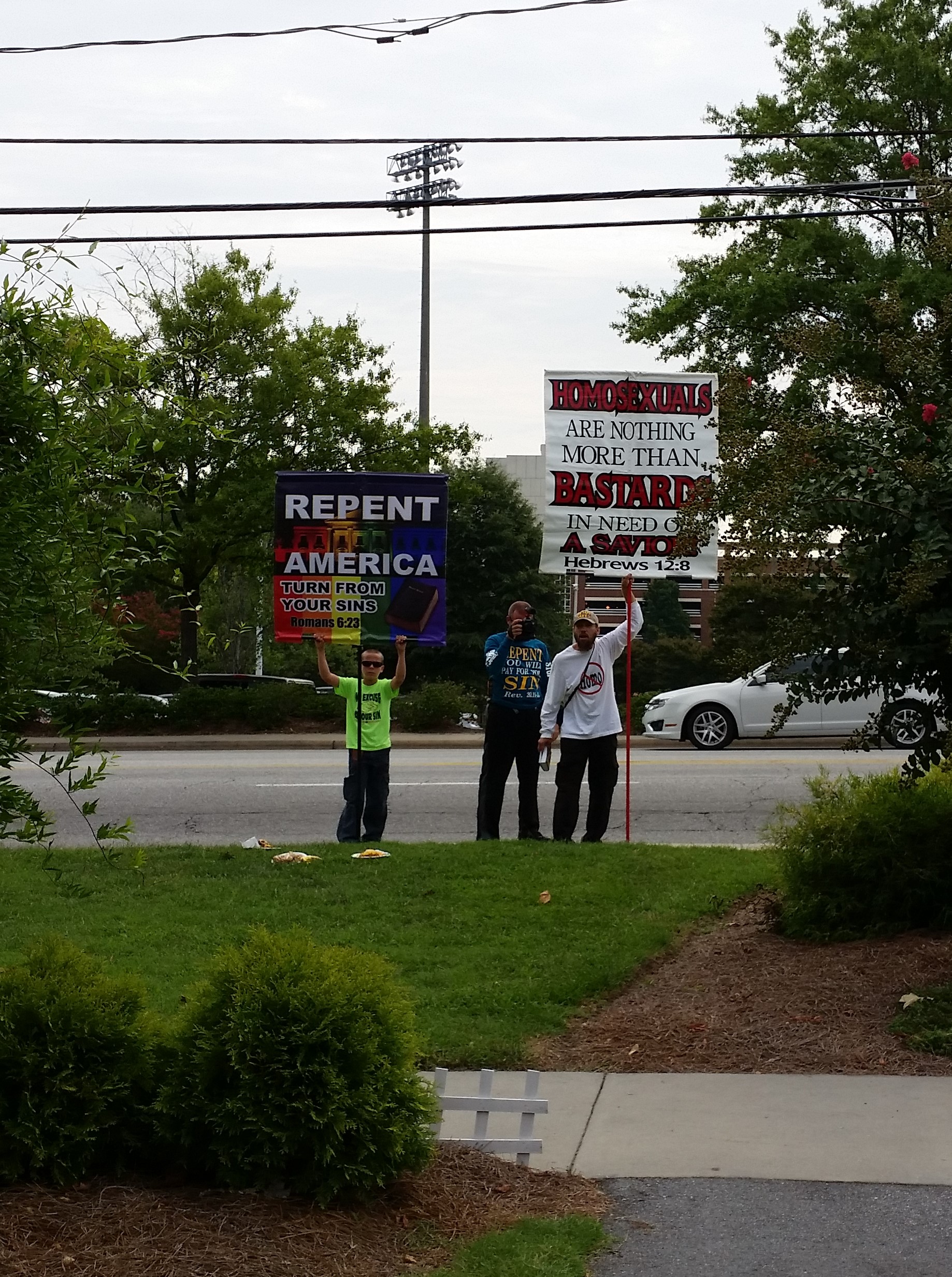 Yes, beloved, these people are protesting my church. Why? I'm not really sure; I wanted to ask, but they wouldn't stop preaching at me long enough for me to get a word in. So, I just took the picture, laughed and went on my way.
You might think that this would end there and it probably should. But I've never been the object of a protest before and I'll admit, it left me a little rattled. I mean, it's one thing to see these jokers on television, or even to drive by them while they spew their bile at whoever they happen to hate at any given moment. But, it's a little different when it's you they're calling "filth" and a "stench in God's nostrils". I spent most of yesterday trying to process this before I remembered something Chris Hardwick said: "Comedians make jokes about horrible things because, as humans, this our defense mechanism for trying to process those horrible things and gain power over them." Now, calling me a comedian might be stretching things a bit and I don't have a show like Hardwick to work this stuff out.  On the other hand, I am a smart ass with a blog. So, let's get processing!
A little earlier, I said I didn't know why these douche canoes decided to picket our church, but that's not exactly true. Sure, I couldn't get a word in edgewise when I first saw them, but one look at their sign told me exactly what their problem might be: We're a welcoming and affirming Baptist church. Really? That's the best you've got? Hell, it's no secret that we're cool with folks who are LGBT+; it's plastered all over our website and we held an anti-Amendment 1 rally a few years ago. Seriously, if you going to go to all the trouble protest someone, do your homework. There are so many other things we do and/or believe that would drive these guys crazy. Like the fact that we don't use the KJV exclusively, teach from books other than Bible now and then, "encourage" doubt by allowing members to ask questions, occasionally have secular music during service and, perhaps worst of all, allow women in positions of leadership. I'm sorry, fellows, but this was just lazy activism.
I'm not sure exactly who they are or where they're from because, when I finally got a chance to talk to them, they wouldn't say. All they'd cop to was that they weren't local. Whether that's because they've been threatened with violence or are afraid someone might show up and protest at their church (as so many people have done to those trolls at Westboro Baptist Church), I couldn't say. But, it seems to me that if this is the case, you might want to reconsider your message.
Interestingly, these folks staged their "protest" right beside a sign that reads, "Where loving God means loving people." And, when I say "right beside", I mean that literally: they were like 10 feet away from it. So, let me get this straight, you're spewing hate in God's name while standing next to a sign that references a passage from the Bible? Sadly, the irony of it all seemed to be lost on them. Of course, that reference wasn't taken directly from the Authorized King James Version of 1611, so maybe they were confused.
Their sign lists Hebrews 12:8 as a reference for their claim that people who are LGBT+ are nothing but bastards. But, let's look at that passage and see what it says:"But if you don't experience discipline, which happens to all children, then you are illegitimate and not real sons and daughters." Hmm, nothing about gay folks in there at all. To be fair, though, when I finally got a chance to have a bit of conversation with our visitors, one of them said that they weren't just talking about homosexuality, but "all sin": fornicators, liars, thieves, porn watchers like he "used to be"(that's what he said, I'm not questioning his honesty there), etc. In other words, we're all bastards. And, while this does seem to echo Will Campbell's "Gospel in 7 words", he forgets the most important part: yes, we are all bastards, but God loves us anyway.
I have to say, however, that just talking to these guys was exhausting because they couldn't say three words in row without it turning into a sermon. And, the hostility? It came off of them in waves. But, I'm proud of my church family, because they didn't let those ugly signs and the toxic theology get to them. Our pastor invited them in for breakfast and offered them some water (for a heathenous false teacher leading us all straight to hell, he's not a bad guy).  And, one of the ladies who prepared breakfast took some food and water out to them; they wouldn't touch it, though. Maybe they were afraid some "gay" might've gotten on it, I don't know. Of course, it probably didn't help that when she took out to them, she tipped her head at one of them and sweetly asked the other, "Is he your partner?"
I find it interesting that these people were quoting the Bible and "calling out sin", but seemed to be completely ignorant of Matthew 7:1-2. You  know the one that says, "Don't judge, so that you won't be judged. You'll receive the same judgment you give. Whatever you deal out will be dealt out to you." Or, James 4:12, who said "There is only one lawgiver and judge, and he is able to save and to destroy. But you who judge your neighbor, who are you?" Funny how that works, huh?
I'm not sure what their endgame was, but I suspect that, on some level, they hoped that all their preaching, sign-holding and Bible-waving would cause us all to see the error of our ways and we'd fall to our knees and ask God's forgiveness. Or, failing that, maybe some college student would hear their "message" and turn from the life of depravity that they had been living. Yes, because nothing brings a person to God quicker than the knowledge that God "hates" them and wants them to burn in Hell for living the life God created them to live in the first place. That is such a compelling argument.
Okay, this thing is getting a little out of hand, so I'll close with something my son, Parker, had to say about the whole thing: "If you have protesters outside your church, completely unprovoked, you must be doing something right." That's the way I'm looking at it, anyway.