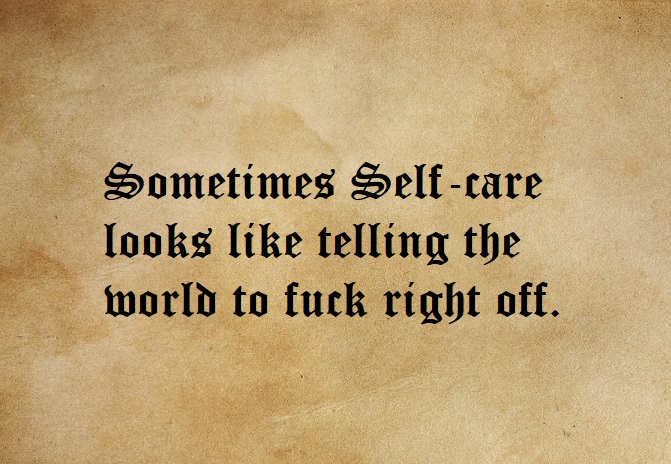 On a recent Sunday morning, I had another of my internal debates. This one was about whether I should go to church or not. There were valid reasons not to go–my friend and pastor Michael wouldn't be there (dude, your nerdy-ass sermons have spoiled me) and it had been a really hectic week. Plus, I was going to see my grandkids that afternoon and they're a lot. Don't get me wrong, I love them to death but those little hellions wear me out. But, I didn't go the previous Sunday and I was missing my community. So I went. Turns out that wasn't the best idea. As much as I enjoyed being with my people, everything else about the experience seemed calculated to bore the piss out of me. The music, the liturgy (god, I fucking hate liturgy), the sermon; none of it held my attention. It was midway through the service before I said to myself, "Hey, numbnuts, your brain's trying to tell you something. Listen the fuck up." So, I grabbed my phone and tuned out. Because when you live with neurodivergence, engaging in self-care can mean looking like a dick.
This Shit Again?
Okay, I know that self-care is a very buzzy word these days. People, especially progressive ones, just fucking love talking about it.(No, Piper, your goddamned Sephora binge is not "self-care") Hell, I've mentioned it here a few times myself. And, while overuse has cost the word some of its impact, the concept of self-care is one of the most important things you can do for yourself. I mean, when it comes down to it, self-care is doing the things necessary to protect your health and goddamn sanity. That is not a bad thing. Quite often, self-care is the only thing keeping my brain from taking a long wet shart on whatever I happen to be doing at a given moment. (h/t to SciBabe for that amazing turn of phrase).
We're Not Trying To Be Assholes
If you think the idea of taking care of yourself making you look like a dick is… let's say, "less than optimal", you're right. Welcome you to the shittiness that is the neurodivergent experience. So many of the things we need, not to thrive but just to survive, are considered rude, selfish, even dare I say it, dickish. We're not trying to be a dick and coming off as one is the last thing we want–I have enough self-hatred without your input, thank you–but existing in this fucking dystopian sci-fi flick come to life we're calling "society" doesn't really take our wants and needs into consideration. This means that so many of the things that are part and parcel of the experience of neurodivergent folks looks, well, dickish.
I'm Not Gonna Look You In the Eye
It's like eye contact. If you don't make eye contact, neurotypicals tend to think you're hiding something. That you're a shady motherfucker. But, eye contact is something we NDs really struggle with. Some of us can't manage to maintain eye contact and listen at the same time; it's a sensory overload thing. Those that don't have the sensory issues have to contend with the social aspects. Whenever I've tried it in the past, some form of the following discourse played in my head: "Am I doing this right? How long do I maintain it before looking away? I don't want to come off as creepy. Oh shit, I bet I'm coming off as creepy. Fuck, fuck, FUCK!" Basically, we're damned if we do and damned if we don't.
This Shit Is Important. For All of Us
Look, self-care is important. For all of us. It's even more important for people on the margins. And, those margins include neurodivergent folks. But, here's the thing about self-care: it looks different for everyone. What helps keep you sane may drive me absolutely fucking batshit crazy. And, the things that help me look after my health–both mental and physical–may look rude and shitty to you. But that doesn't make it any less valid. So, the next time you see someone doing something that looks rude or selfish or maybe even a little shitty (looking at their phone, stimming, looking anywhere but at your face), take a minute before judging them and ask yourself, "Is this person being an asshole or are they just trying to navigate a fucked up/stressful/chaotic situation?" And then, act accordingly.