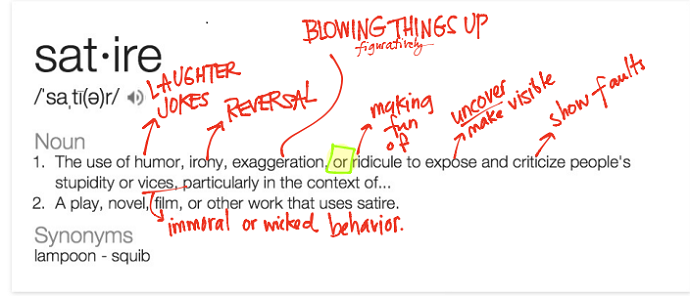 Today, I want to share an article I found this morning in The Old North State Beacon ("All the fake news that's fit to print since I made the site up this morning"):
Woman Stunned To Find Poor And Homeless Don't Want Her Leftovers
         A Greensboro woman was bewildered when a local ministry for the poor and homeless turned down her donations recently. Last month, Frankie Whitesteen's family held a yard sale in preparation for moving to their just finished home in New Irving Park, an upscale subdivision in the city of Greensboro. There were quite a few items left over, so last week, she decided to donate them to "Love Conquers All Ministries", a non-denominational ministry that serves downtown Greensboro's at-risk population. But, she says they wouldn't take her offering.
          "They were kind of rude about it, too" she said. "When the man saw what I had, he said 'Jesus, lady! What am I supposed to do with this crap? If you couldn't sell it at a yard sale, what makes you think my people want it?' And, he claims to be a preacher, talking like that?" Whitesteen said she was so disheartened by the reaction, she took the items to the dump rather than trying to find another agency who might find a use for them.
          When contacted for a statement, "Love Conquers All" director Aaron Hallowell said "I guess I was a little hard on her, but you should've seen what she brought. Torn clothes that smelled like moth balls, lingerie and used underwear, some expired cans, a Chia Pet and a bag of used diapers. What the hell am I supposed to do with a bag of used diapers?" Hallowell says it's not the first time people have tried to "donate" such items and the agency has gotten things like half used spices, a box of corn starch, expired medication, used toiletries (half empty bottles of shampoo, for example). "I'm really sorry I blew up like that, but her "donation" was the straw that broke the camel's back."
When told what Hallowell had to say, Whitesteen was shocked. "I just don't get it", she replied, shaking her head. "I had all that great stuff and he wasn't the least bit interested." As for the diapers, she said "Well, I figured poor people might have babies and babies need diapers. It's not like I sent ones that had poop in them. It was just the pee diapers. Besides, using soiled diapers might motivate them to go out and get a job so they can buy fresh ones."  Whitesteen admitted that she's never actually met anyone was homeless and/or poor  and has no idea what their needs might be. She said she didn't understand what difference that could make. And, when it was pointed out that people in those situations might not care for her cast offs and leftovers, Whitesteen was flabbergasted. "But…, they're poor. Shouldn't they take whatever they can get and be grateful for it?"