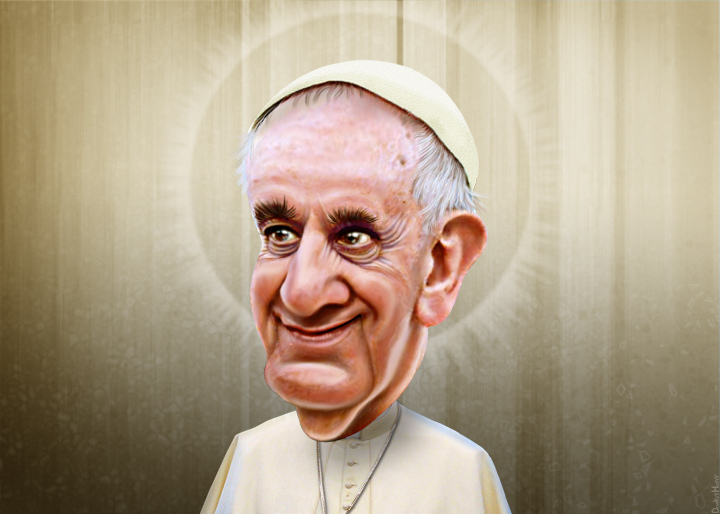 Unless you live under a rock, you know the Pope is visiting the U. S. this week. What you might not have known is that Frankie is a "progressive". At least, that's what the media (and the Republican party) keeps telling us. Only in the America of the 21st century could a man who's pro-life, anti-LGBT and against the ordination of women be called a "progressive". While the media is having a field day with Francis' visit, saying that the GOP isn't exactly happy about the whole thing is a bit like referring to the Hindenburg disaster as a "fire": true, but an understatement of massive proportions.
Take Marco Rubio, for instance. This good Catholic boy recently said, "As a Catholic, the Pope is the Vicar of Christ, the successor of Peter and the head of the Church…And in theological matters, as a Catholic, I believe when he pronounces himself from the chair of Peter, which is actually very rare, he is infallible in those decisions, in those issues. That does not extend to political issues like the economy". He added, "On economic issues, the pope is a person." Fellow Catholic Chris Christie agrees. He told CNN's Jake Tapper, "I just think the Pope is wrong. The fact is that his infallibility is on religious matters, not on political ones." Isn't it funny how the Pope's infallibility evaporates as soon as he starts contradicting conservatives about money or the environment?
Two other cradle Catholics, Rep. Paul Gosar of Arizona and Rick Santorum (who, thanks to Dan Savage, needs no introduction) get a little more specific in their criticism of Pope Francis. Both take issue with Francis' comments on climate change, with Gosar claiming the Pope is promoting "questionable science" and Santorum declaring, "The pope ought to stay with his job, and we'll stay with ours." Rick went on to say, "I think we [Catholics] are better off leaving science to the scientists and focusing on what we're good at, which is theology and morality." Couple of things here: 1) I love how any science that doesn't allow the GOP's corporate pals to continue raping the planet in their quest for riches is "questionable" and 2) Francis is scientist, having graduated as a chemical technician and working in that capacity for the Hickethier-Bachmann Laboratory before entering the priesthood. Sounds like someone didn't do their homework.
You would think the GOP's very own propaganda channel media outlet, FoxNews, would back them up on all this asshattery. But check out this commentary from the network's own Shepard Smith:
"I think that we are in a weird place in the world when the following things are considered political. Five things, I'm going to tick them off. These are the five things that were on [the pope] and our president's agenda. Caring for the marginalized and the poor. That's now political. Advancing economic opportunity for all. Political? Serving as good stewards of the environment. Protecting religious minorities and promoting religious freedom globally. Welcoming [and] integrating immigrants and refugees globally. And that's political?

I mean, I don't know what we expect to hear from an organization's leader like the pope of the Catholic Church other than protect those who need help, bring in refugees who have no place because of war and violence and terrorism. These seem like universal truths that we should be good to others who have less than we do, that we should give shelter to those who don't have it. I think these were the teachings in the Bible of Jesus. They're the words of the pope, they're the feelings of the president. And people who find themselves on the other side of that message should consult a mirror, it seems like. Because I think that's what we're supposed to do as a people, whatever your religion. I mean, it seems to me — and I think to probably, as Bill O'Reilly would put it, most clear-thinking Americans — that that's how we're supposed to roll."
A FoxNews anchor taking Republicans to task on the air? Just when you thought things couldn't get any more weird.
Taken by itself, Smith's comments could be written off as a cynical attempt to make Fox look like it's living up to its tagline, "Fair and Balanced". But, lately, the network has been giving Trump hell and Chris Wallace called Carly Fiorina out on her Planned Parenthood BS, both of which gives some credence that "change of heart" theory. Holy crap on a cracker. Is there a rip in the space-time continuum that I didn't know about? Or, maybe, the Apocalypse is upon us; I don't know. Either way, this is uncharted territory and it's a little scary.