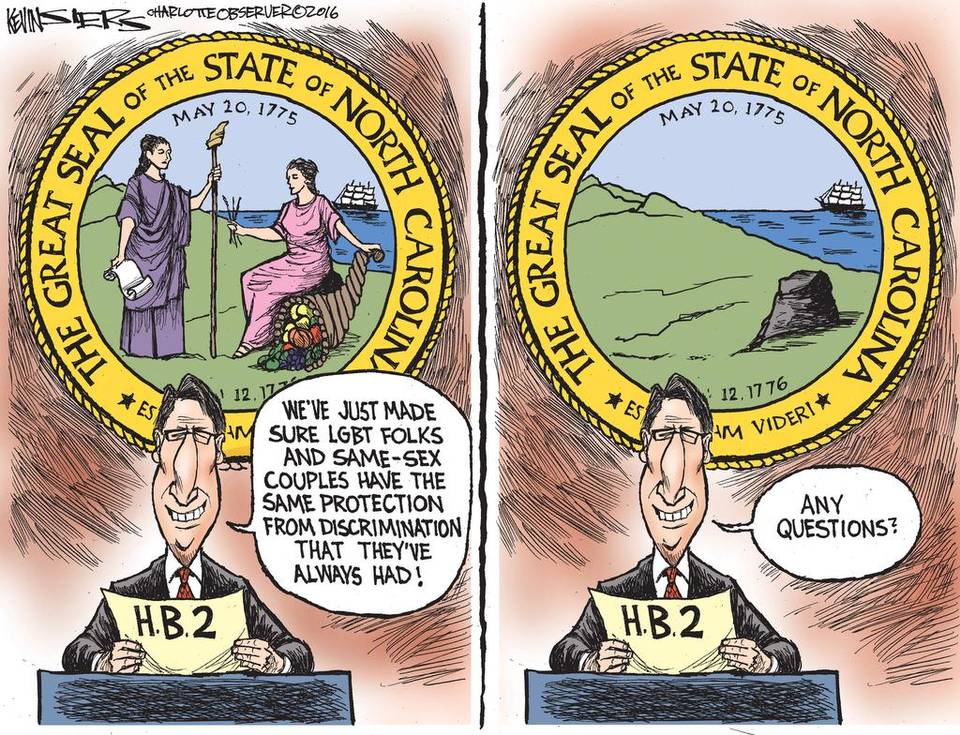 Many of the arguments in favor of North Carolina's Public Facilities Privacy & Security Act (aka HB 2) sound juvenile at best, paranoid and delusional at worst. We've been treated to some really.., let's say, interesting defenses for what some North Carolinians are calling Hate Bill 2, including mythical bathroom predators and what amounts to grade school whining. To say all this doesn't us make look good is like calling World War I a minor kerfuffle; i.e. a massive understatement.
I keep telling myself, "It can't get any worse than this." And, every I do, you know what happens? It gets worse. Just this week, a candidate for attorney general spoke about the need to "keep our state straight". Really, y'all, he said that. Out loud. And, in public. Where people could hear him. Now, it's one thing when a relatively obscure state senator says something so absurd; it's another when it comes from the man holding the highest elected office in the state.
Recently, our "distinguished" governor Pat McCrory upped the ante on the bat crap crazy dialogue that marks the Republican response to any criticism of HB 2. And, let me just say it rivals any remark he's made the entire four years he's been in office. If you follow NC politics at all, you know that's saying something .
Just a few days ago, the following statement appeared in a New York Times article: "On Thursday, he (McCrory) said he suspected that the entire matter had been orchestrated by Democrats and the Human Rights Campaign, a national gay rights group, to give Democrats an advantage in a tight governor's race." Oh, great, the chief executive of our state is in one of the world's most widely read newspapers sounding like a deranged nutbag.
There are a multitude of problems with the governor's accusation, not least of which is the fact that he has absolutely nothing with which to back it up; mostly because the whole thing is bullshit. But, he's also crediting the Democrats with waay more intelligence (not to mention cunning and guile) than they actually have. The only reason we haven't had 50 years of consecutive Republican rule is that the GOP is even more screwed up. The Democrats may be incompetent, but the Republicans have lost their damn minds.
If you think all this sounds a little crazy, you're right. That because it doesn't have anything to do with real reason HB 2 was passed: the thing was actually a ploy to back McCrory's opponent in the upcoming election, Attorney General Roy Cooper, into a corner where he'd lose important votes no matter which way he went (read the full story here). Unfortunately for the guv and his pals in Raleigh, it's done just the opposite; the latest polls show Cooper leading the governor by as much as 6%. I don't know about you, but I find that hilarious.
With any luck, come November, we may get rid of the worst governor we've seen in God know how long. If we're really lucky, we'll also lose a few of the legislators who have done so much tear down what was once the most progressive state in the South. And that, my friends is one of the few bright spots in this whole sordid mess. Granted, it's not much of one, but I'm pretty sure it's about as good as we're going to get.