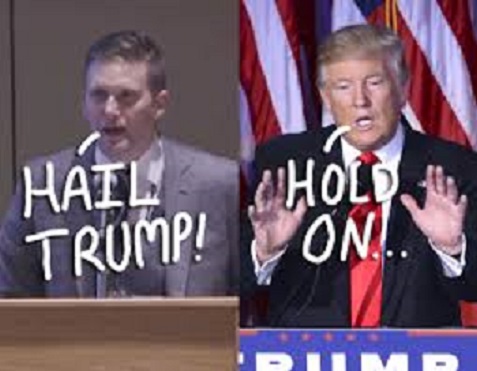 As many of you probably know, I am not a fan of our Dear Leader-to-be, Donald J. Trump. The reasons for my antipathy are many and varied, from his choice of the most anti-LGBTQ governor in America as his vice-president to his relationship with the alt-right, a group of racist trolls whose taint was mostly contained to the internet until the Tangerine Nightmare drew them out from under their bridges. And, of course, there are the temper tantrums he regularly throws on Twitter; all of which would embarrass the brattiest of three year olds.
One of more troubling actions of President-elect Trump's (I throw up in my mouth a little every time I say that) is his refusal to reject the hateful ideology of the alt-right. Not only has he been silent on the matter, he has appointed their top propagandist, Breitbart's Steve Bannon, as his chief adviser. And, yes, I realize referring to this as "troubling" is a lot like World War I "a little dust up".
But, there is a break in these awful black clouds of doom, beloved. Last week, everyone's favorite "short-fingered vulgarian" finally spoke to the country on this issue. In what only be described as "a tale told by an idiot, full of sound and fury, signifying nothing," Trump "disavowed" the alt-right.
Last Tuesday, during an interview with New York Times staffers, the  PEOTUS was asked about the group and he said "I disavow and condemn them". Sounds good, right? Well, I wouldn't get too excited because he also said "It's not a group I want to energize, and if they are energized, I want to look into it and find out why." It appears our president-elect is the only person in the country who is unaware of how his candidacy and election has breathed new life into what we all hoped was a dying movement. Great, just frickin' great.
What's that? You think I shouldn't criticize Mr. Trump's remarks out of hand like that? Oh, don't worry, Sparky, I have given careful consideration to what President-elect BabyHands said. But, the fact that you feel that way makes me think you haven't. So, let's take a look at how his statement last week lines up with with what he's done so far:
During his campaign, David Duke, former Imperial Wizard of Ku Klux Klan, was very vocal about his support of Trump. When CNN's Jake Tapper asked if he would repudiate the support of an avowed racist, the future leader of the free world said, "I don't know anything about David Duke. Okay? I don't know anything about what you're even talking about with white supremacy or white supremacists." (He was lying) But wait, there's more!
After going through campaign operatives like a pothead goes through a bag of tacos, Trump hired Steve Bannon. Yes,beloved, the same Steve Bannon who bragged that Breitbart.com, the website of which he was CEO, was "the platform for the alt-right". After he won the election and began putting together his cabinet, Trump's first act was to appoint Bannon as his chief adviser.
His pick for Attorney-General, the cabinet official charged with enforcing civil and voting rights is Sen, Jeff Sessions (R) of Alabama. This is significant because in 1986, a Republican Senate committee denied Sessions a federal judgeship after former colleagues testified that he "used the n-word and joked about the Ku Klux Klan, saying he thought they were 'okay, until he learned that they smoked marijuana.'"
So, on one hand we have Trump's statement that he is not allied with the racist, anti-Semitic, misogynistic, Neo-Nazi internet trolls who, after his election to the highest office in the land, are now slithering out from under the digital rocks to which they had been relegated. On the other, we have specific actions on his part which indicate that he may have actively courted the support of the alt-right; at the very least, he had no problem with them.Sure, Donald, you "disavow and condemn them" in the same way I "disavow and condemn" my mother's chocolate cake while shoveling another bite into my mouth.