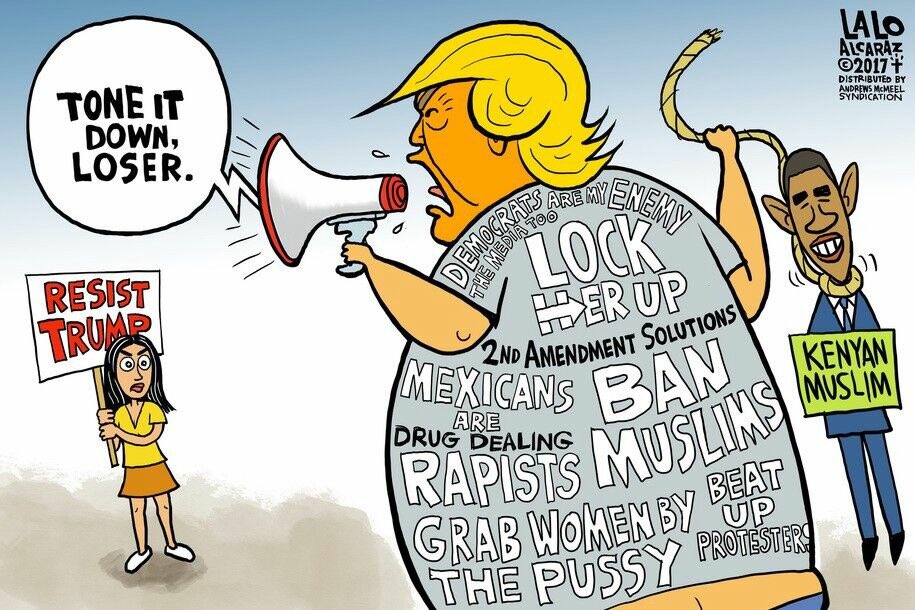 I think it's safe to say that, right now, public discourse isn't at it's loftiest point in our history. Up until last week, I told myself that things could certainly be worse, saying "Hey, no one's taken a stick to a colleague on the Senate floor while a compatriot pulled a pistol to keep everyone else at bay. That's something, right?" But, I'm not sure I can hold onto that slim strand of hope much longer.
Last Thursday, a man with a long-standing grudge against Annapolis, Maryland's Capital Gazette newspaper walked into their office and opened fire on the staff, killing five and wounding two. You might be wondering why I would bring up mass murder in a discussion about public discourse. I get that, killing a whole slew of people in one go is pretty much the opposite of talking. In another world, it wouldn't make a lot of sense to bring up mass murder in a discussion about the community's rhetoric. But, we don't live in another world, we live in the "Trump-side Down": A world where a thrice-divorced reality show huckster who said he's never felt the need to ask God's forgiveness and has paid hush money to an adult film actress over an affair enjoys massive support from evangelical Christians that they elect to the highest office in the land. Meanwhile, a devoted husband and father who has repeatedly demonstrated his faith through his actions is reviled by these same people as a "secret Muslim" who is mounting an assault on Christianity. Y'all know these folks make Jesus cry, right?
If the way Obama was treated while 45 is embraced isn't enough proof that we live in a parallel universe  where everything is twisted and warped, check this out. Thursday evening, on AC360, Anderson Cooper replayed a previously taped interview with some of the survivors of the shooting. In it, reporter Selene San Felice said, "But I'm gonna need more than a couple days of news coverage and some thoughts and prayers because it's — our whole lives have been shattered. And so thanks for your prayers, but I couldn't give a fuck about them if there's nothing else." Whether by mistake or by design, they didn't bother to censor San Felice and the expletive came thru loud and clear. In the normal world, the only way to respond to that is the way Cooper did: with sympathy and grace. However, in the "Trump-side Down", it seems that tone-policing is an appropriate response.
I say that because, Friday morning, Senator Marco Rubio (R-Fl) tweeted:
"Sign of our times… the F word is now routinely used in news stories, tweets, etc. It's not even F*** anymore. Who made that decision?
Wow. Let me see if I understand what's being said here: In the aftermath of a mass shooting that left five people dead and 2 wounded, Senator Waterboy is upset by the "F word"? I don't know about you guys, but I can think of a lot of words that are worse than "fuck", like murder, racism, famine and a whole bunch more. But, I suppose it is nice to know where Marco's priorities lie.
Now, the cynic in me thinks that this really about all Rubio can say,  what with bought and paid for by the NRA. But, my idealistic side says that, rather than just making snarky comments, I should try and look at things from Marco's point of view. I don't know, maybe "F***" is worse than I think. So, let's do a little research, shall we?
As a word, "fuck" has been around for a long time. The first attested usage dates to 1475 in a poem by some English friars (it does appear earlier in a couple of names). It is probably a cognate of some German words that have a sexual connotation. Or, it may derive from an Old French word that means "to fuck". Originally, it referred only to having sex and it's hard to tell when it lost that happy association and picked up some of the more unpleasant and offensive meanings it has today. But, even with all those negative associations, when stacked up against violent death, bigotry, and hunger, "fuck" just doesn't seem that bad to me.
Of course, Rubio isn't the only person to use this approach. All of our social media feeds are full of "Trumpies" calling for civility now that everyone else has had enough of their crap and started giving it back. Sorry snowflakes, that genie is out of the bottle and it ain't going back in. Deal with it.