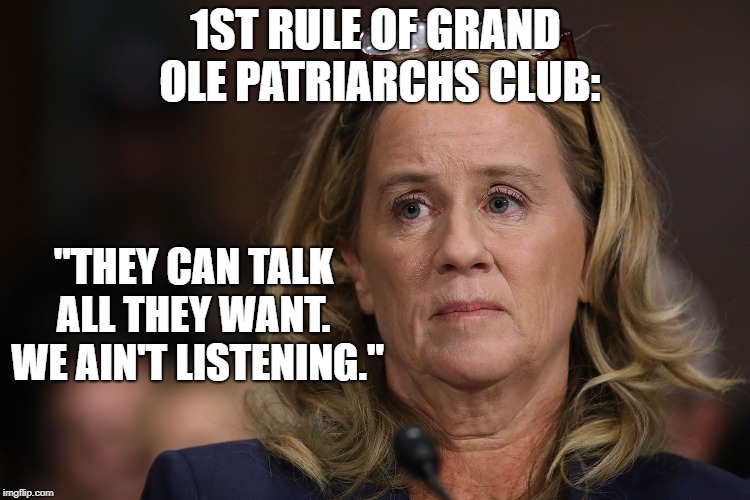 It's not a fun time to be a man right now, what with all the terrible behavior being revealed by #MeToo. It's even worse if you understand that we deserve all those bad feelings and more. So. Much. More. We deserve it because we've behaved horribly, whether we've perpetrated the awfulness ourselves or told victims we don't care about what's happened to them.
Last week, Dr. Christine Blasey Ford went before the Senate Judicial committee to testify about her allegation that Supreme Court nominee Brett Kavanaugh attempted to rape her when she was 15 and he was 17. The whole thing was an avalanche of awfulness that included from a fairly detailed recounting of a sexual assault, a bunch of old men cowardly hiding behind the skirts of a woman brought in to do their dirty work and, finally, the realization that the Republican members of the Judicial committee and a not-insignificant portion of Americans don't really care that a man who may well have committed a sexual assault could be elevated to the highest court in the land.
Right about now, you may be thinking, "What does this have to do with me? I don't know anyone who's been sexually assaulted/harassed." I hate to break it to you, but you're wrong. You do, they're just not willing to tell you about it. And, I'm not talking about acquaintances, either. I mean, spouses, children, other family members, close friends, etc.  Think about that for a minute. People who are as close to you as it is possible to be are dealing with awful, demeaning, traumatic experiences and they've never mentioned it to you. Why do you think that might be?
Maybe, just maybe, it's because you've given them a good reason not to. Now, you're probably thinking, "What!? How did I do that?" You did it when asked what a rape victim was wearing/how much she had to drink beforehand/what she was doing in that part of town in the first place. You did it when you said someone who reported that they'd been assaulted was a liar because they waited (sometimes months, sometimes years) before coming forward. You did it when you said that someone telling the story of how they'd been assaulted had an agenda, that they were out to smear a good man's name. You did it when you asked tried to dismiss victims by intimating that false accusations of sexual assault were a bigger problem than assault itself. Basically, you did by being a douche bag. Instead of wondering why they don't trust you, you should be wondering why they continue to allow you into their life at all.
Like I said in the opening sentence, it's not a fun time to be a man right now. But, know this: the way you're feeling right now is nothing compared to the way people who have been victimized sexually feel.  It is, at most, a tiny clouded window into what those folks live with every day. And, as a man, you should be looking for ways to lessen that awfulness for them, not doubling down on it so your side "wins". To put it bluntly, man up and stop being a douche bag.