This is not turning out to be one of history's more inspirational election cycles. Unable to bring themselves to vote for Trump or Hillary, many people are considering a vote for a third-party candidate.  Unfortunately, Jill Stein and Gary Johnson aren't proving all that inspiring, either. But, there is a light shining in the darkness and his name is Andrew Basiago.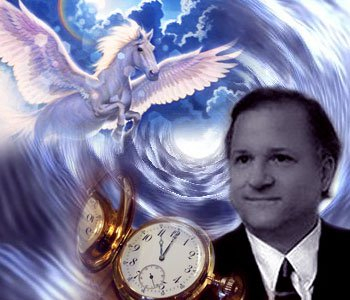 Who is Andrew Basiago? First of all, he is an actual candidate for President having met all the requirements and filed the proper paperwork with FEC. Second, and much more importantly, he is the visionary truth-teller America so desperately needs right now.
So, what will Andy do if we elect him? According to his website, he will "lead the American people into a bold, new era of Truth, Reform, and Innovation as great as they are great." And, here are a few of the things he's proposing to make that happen:
Open government files on secret technologies _ These files include DARPA's Project Pegasus and possible cancer cures. In doing so, we reclaim our role as the world leader in science.
Disclose U. S. Time Travel Technology _  By 1970, the aforementioned Project Pegasus had created 8 different approaches to time travel, from teleportation to chronovision. This amazing technological feat has been kept secret from the American people for far too long. Basiago aims to release this information and energize our scientific potential.
Reveal Extraterrestrial presence on Earth _ For years, the U. S. government has concealed the fact that our atomic bomb tests at the end of World War II attracted beings from other worlds (57 different species at present). As President, Basiago would end this massive cover-up and come clean with the American people.
 Disclose Secret U. S. presence on Mars _ Yes, the U. S. has a presence on the Red Planet, a fact that has been concealed from the American people for 50 years. Basiago would pull back the shroud on the CIA's Mars jump room, the Mars Colony Corporation and other related matters. He would also seek a UN treaty protecting Mars' fragile ecosphere from exploitation by Earthlings.
Declassify Secret Space Program _ Under our noses, the CIA has maintained a secret space program. Basiago would open the files on this program and force that agency to reveal their secret programs and off-planet treaties.
Protection of Sasquatch Species _ Like Theodore Roosevelt, Basiago has actually encountered a Sasquatch and understands the importance of preserving this majestic creature. To that end, he will put them on the endangered species list.
Some of these proposals may sound a bit far-fetched, but they are not. Like the Sasquatch, Basiago has intimate knowledge on all of them. As a child, he was a participant in Project Pegasus and, over the years, has made multiple trips through time and space, including a trip to Gettysburg in November of 1863, And, he has photographic evidence of that trip.
He has also made multiple trips to Mars. On one, he was accompanied by a young Barrack Obama. On another, he and a fellow chrononaut William White Crow defended themselves with AR-15's against a horde of dive-bombing pterodactyls. This man is a true American hero and will lead us into the greatness we so truly deserve.
Is Basiago bat crap crazy? Probably. Does he have a prayer of being elected. Not no, but hell no. But, if we're being completely honest, neither do Stein or Johnson. So, if you're bound and determined to vote  third-party candidate, why not do it with some style?
Andy 2016!