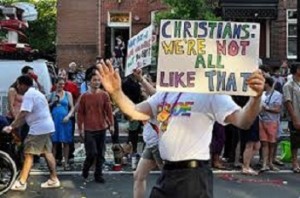 The phrase, "We're not all like that", has become increasingly popular of late. And, while it can be meant as a show of solidarity with an oppressed/persecuted group, it can also sound like you're saying you're not one of "those people". And, by "those people", I mean whatever group happens to be the asshole of the moment. The most recent example of this all-too-regular occurence is #notallmen which sprang up in reply to #YesAllWomen. Not only is #notallmen an exercise in missing the point, it's whiny and childish. Because, as I said last week, it doesn't matter if we're "not all like that"; enough of us are . Saying we're not isn't enough.
Recently, Matthew Turner wrote a post titled The Ugly Way Evangelicals Love Gay People. In it, he pointed out some recent comments evangelical leaders have made concerning the LGBTQ community. I don't know about anyone else, but I felt the need for a shower after reading this stuff. The whole time, I was thinking "but, but, but NOT ALL CHRISTIANS ARE LIKE THAT!" Luckily, I was able to console myself with the fact that he was talking to and about evangelicals. And I am so not an evangelical.
There's a fly in the ointment, though. Yes, Matt is addressing evangelicals here, which only makes sense because that's who he is and what his audience consists of (well, partly). But, don't sit back and think progressives aren't being painted with that same brush. To people outside of Christianity, people being oppressed by Christians, or just people who don't have a dog in this particular hunt, we're all like that. Beating our chest and saying we're not just doesn't cut it.
I found Matt's piece while reading another from Kimberly Knight who rightly points out the evangelical response is really about fear. Evangelicals and fundamentalists are afraid that by affirming LGBTQ folks, their whole world will crumble. I'll let Phyllis Ticke explain with an excerpt from her book, The Great Emergence: " To approach any of the arguments and questions surrounding homosexuality in the closing years of the twentieth century and the opening ones of the twenty-first is to approach a battle to the death. When it is all resolved–and it most surely will be–the Reformation's understanding of Scripture as it had been taught by Protestantism for almost five centuries will be dead…, Of all the fights, the gay one must be–has to be–the bitterest, because once it is lost, there are no more fights to be had. It is finished."
It doesn't have to be this way. Fundamentalists and evangelicals are lost in the wilderness right now and they need help. They need to know that there's a way out of that wilderness that will allow them to live in this new and different world that won't compromise the essence of their morality and allow them to still follow Christ. Separating ourselves from them (and make no mistake, that's what we're doing when we say "We're not all like that") isn't helping, it's standing on the sidelines of the most important game of the season while half-assedly cheering and thinking you're actually in the game. And, I hate to break it to you, but you're not.