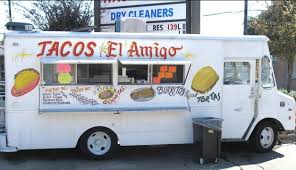 During the campaign, Latinos for Trump founder Marco Gutierrez warned that his culture was a very strong one and, if we didn't do something about it, we'd have taco trucks on every corner. So, with the election of Donald Trump, who vowed to fix the immigration system, is that wondrous (possible) reality now just a fantasy? Shit. If there's one thing we don't need right now, it's something else to worry about under the regime of the Tiny-handed Terror.
I don't get it.  Why would anyone vote against the availability of tacos on every corner? Tacos are crunchy, little folders of awesomeness, filled with all kinds of ambrosia-like substances. There is a taco for everyone, from the most hardcore vegan to the dyed-in-the-wool meat eater hell-bent on destroying the environment through livestock-produced methane. And, Americans actually said "no" to that. What the hell, white people?
Understand that when you voted for Trump, you stomped on a dream that everyone could get behind: readily available tacos no further than one city block in any direction. And, for what? Do you honestly think Donald Trump is going to be the champion of the working people like he promised? Right, the guy with a very long, very well-documented history of stiffing people who worked for him has your back. What were you thinking?
I mean, I get it: you're still out of work, you're worried that your kids aren't going to do better than you did. And, let's be honest: brown people freak you the fuck out. But, wouldn't a tasty, warm taco take a little of the sting out of that situation? FYI, those "brown people" you're so worried about? They're the ones who came up with those tasty bits of heaven in a tortilla.
Hell, even Trump loves tacos. See, here he is enjoying one from the Trump Tower Grill: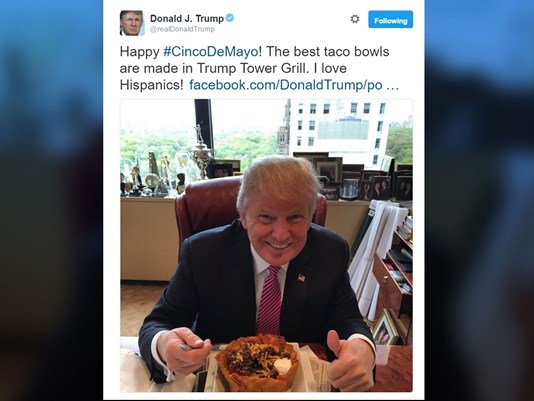 Okay, so it's not really a taco. It's a taco bowl (aka "a taco with a big, beautiful wall around it."). And, being prepared in the grill at Trump Tower, it's probably about as authentic as something from Taco Bell. But, it's the sentiment that counts, right. Besides, he loves Hispanics!
We could've had taco trucks all over the place; not to mention affordable college, an real healthcare plan, a minimum wage that you actually live on and more. But, no. You had to throw your little temper tantrum. And, what are we getting instead?  A tangerine nightmare, along with warmed-over Republican bullshit like privatizing essential elements of the social safety net, incompetents appointed to key positions, and the legitimization of white supremacy/nationalism. I would say "Bet those taco trucks aren't sounding so bad right now", but I know better.