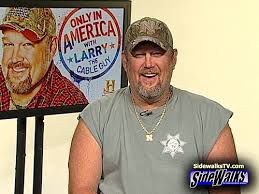 On Dan Whitney, Political Correctness and Trans Issues
For reasons unbeknownst to me now, there was a time when I found Dan Whitney's faux southern redneck pose (aka Larry The Cable Guy) funny. I shouldn't have; even if you leave out all the racist, sexist, anti-LGBTQ crap he spews, it's still offensive to southerners because it paints us as semi-literate bumpkins who glory in their ignorance. And, isn't that a lovely stereotype?
Whitney defends his schtick by saying it gets laughs. Once, to illustrate this point, he told one of his jokes as Dan Whitney, sans accent and ignorance and it fell flat. Then, he told it again as "Larry" and the audience ate it up. Basically, he's taking the easy way out. Instead of writing better material, he chooses to pander to his audience's baser instincts. When you have the kind of voice Whitney does, using it this way is deplorable.
What Whitney is doing is playing on working class white folks' fear of change, and railing against "political correctness" is one of the best ways of doing so. Political correctness, of course, is the term certain people like to use when they demonize others for, basically, not being a dick. And, by "not being a dick", I mean "not using language that offends others". It never ceases to amaze me that some folks think this is a bad thing.
Unfortunately, being "politically incorrect" isn't just a part of his "Larry, the Cable Guy" persona; it's a part of being Dan Whitney. Last month, on his Sirius XM "Weekly Roundup" program, he went off on a political rant which included his disgust with people who are transgender, saying "Look, if you have a penis, you're a boy. If you have a vagina, you're a girl, That's how it is." Seriously? The fact that this guy gets standing ovations when he performs just makes me sad.
Now, I could list all sorts of valid research to counter Whitney's claim; god knows there's plenty of it out there. But, most likely, I would be wasting my breath because a lot of the people who agree with this sort of thing aren't swayed by research or science, or pretty much anything else. So, instead, I'll ask this question: Who's it hurting?
The answer, of course, is no one. What is does is upset the straight, cisgender apple cart and some people have a problem with that. And, if I'm being honest, I can relate. As a straight, cisgender man, I have no problems whatsoever with people who are gay or bisexual and trans men and women don't bother me in the least. But, effeminate men are a different story. Especially one who's genderqueer and intentionally blurs the line between male and female. I know I shouldn't feel this way, but lipstick and a five o'clock shadow freak me the hell out.
But, but freaked out as I may be, I still don't tell these guys to "BE A DAMN MAN!!!" I think it, sometimes, but I never say it. Why? Because I've seen what happens to someone when they're not allowed to be the person they truly are and, believe me, it is deadly. So, if you're one of those folks who agree with Whitney on this, I want you to remember what I just said the next time you want to spew some bullshit about your genitalia defining who you are. What they're doing isn't hurting you in the least, but what you're doing? It's killing them.