Between the craziness about the flag and the way conservative Christians have lost their fucking minds over the Court's ruling on marriage, it's an interesting time to be a progressive blogger with a snarky, sarcastic side. We've all seen the crap coming from Tony Perkins, Mike Huckabee, Rick Santorum and a host of others.  But, the most consistent purveyor of bat-crap crazy has got to be Bryan Fischer of the American Family Association. In a field of frothing-at-the-mouth nitwits, Fischer manages to rise head and shoulders above all the others with utterances like this: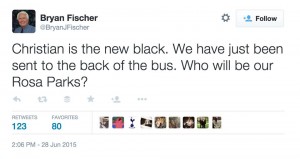 Yes, beloved, you can believe your eyes: a white guy just compared the imagined persecution of a bunch of (mostly) white people to the Civil Rights movement. Funny, I haven't seen the cops turning fire hoses and attack dogs on conservative Christians because they're protesting the recognition of someone else's rights. My god, the irony in that statement is almost as palpable as Fischer's cluelessness.
Sadly, that's not the only demented thing he has to say on the subject; it was just another post in a Twitter rant that's still going on. So far, Fischer has called the Supreme Court "rainbow jihadists"; said that Justice Kennedy "killed" the 1st Amendment; compared people who are LGBT+ to Nazi's (aka "the Gay Gestapo"); claimed that SCOTUS released the ruling when they did in order to "turbo-charge gay pride parades" and said (this may be favorite) that the "Supreme Court makes it harder to go to heaven". You know, Fischer's ranting is almost as imaginative as that of Antonin Scalia. Were these two separated at birth or something?
As I said earlier, Fischer isn't the only one saying this kind of stuff, he's just the most…, let's say, "interesting". Now, most of these assholes have an agenda to push: Huckabee and Santorum are trying to whip their supporters into a frenzy that they hope will result in votes; Perkins and some others are attempting to scare people into sending them more money; a few, like certain people on Fox (I'm looking at you, Bill O'Reilly), are attention whores who desperately hope their comments translate into higher ratings. Almost none of these people actually believe the crap they're putting out; it's just a means to an end. Only a few, like Fischer, are "true believers" and are throughly convinced of the rightness (and, righteousness) of their message. But, that doesn't make what they say any less stupid or damaging.
If the propagators of this bullshit were just sleazy politicians pandering for votes and attention whores trolling for ratings, it would be one thing. But, it's not; almost all the ugly things being said about same-sex marriage, affordable health care, racism, income inequality and a host of other important issues are coming from people who claim to be followers of Christ. What…the…actual…fuck? Seriously, almost everything these people say is in direct opposition to what Jesus taught. What, you don't believe me? Well, let's a take a quick look:
Same-sex marriage _  this is a tough one, because Jesus didn't say much about marriage in general and nothing at all about same-sex marriage. In fact, the only thing he did say on the subject concerned  divorce. While some folks try to say that passage somehow speaks to what Jesus thought about same-sex marriage or sexual orientation (concepts that didn't even exist when this was said), that's a stretch, at best. And, disingenuous at worst.
Affordable health care _ Again, we're faced with a dilemma because, like LGBT+ issues, this wasn't even a thing is the 1st century. And, again, Jesus never said anything about it. But, considering that most of the miracles he performed were healings, I have a sneaking suspicion that he'd be cool with the idea.
Income Inequality _ Finally some solid ground! What's that you say? Jesus would never condone redistribution of wealth? Au contraire, mon frere. He specifically did so in Mark 10 (aka the story of the rich young man). So, yeah.
Racism _ Now, the J-man didn't specifically speak about racism, but he did tell his followers to love each other. Losing your shit when we just talk about removing a flag that symbolizes racism and oppression to a lot of people in this country isn't exactly what I'd call loving. Come on y'all, it's not that god-damned hard to figure out.
Don't get me wrong, though; I'm not saying you can't agree with Fischer on these and other subjects. Hell, I'm not even saying that you can't call yourself a Christian if you do. As proponent of free will, I believe you can do and say anything you want. But, if you decide to keep this up, I really wish you'd find another name for yourselves. You're making the rest of us look bad.